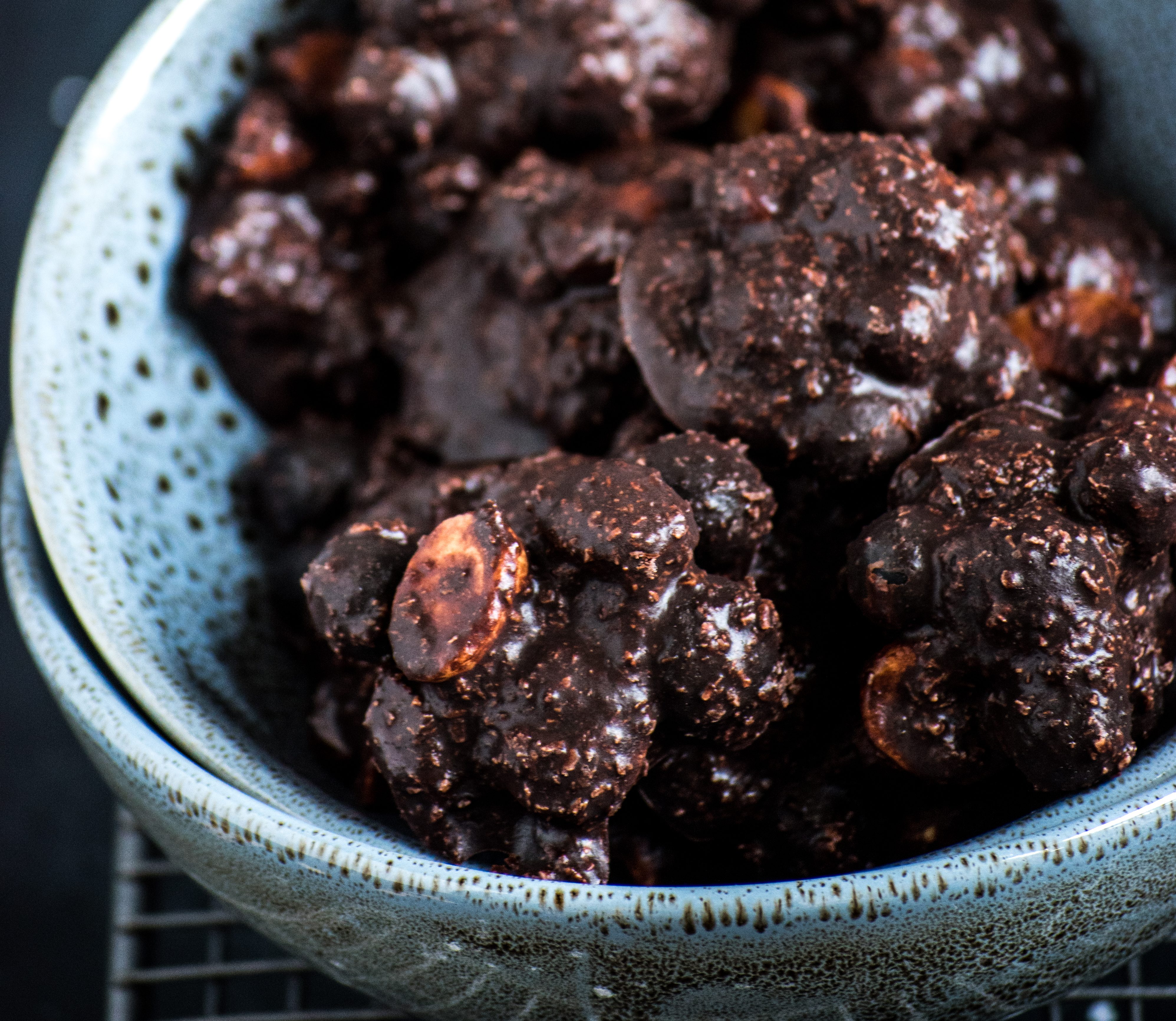 I love making my own chocolates to snack on of a night time (sitting watching Netflix and sipping on tea – let's keep it real). So when I had a punnet of blueberries that needed using inspiration struck! First off I just added in the blueberries and roast macadamia nuts – a delicious simple combination, but then my sisters suggested desiccated coconut. Let's just thank her now, it took this recipe to a whole new level! So what are you waiting for, make a batch, make a tea and take time for yourself –  it's the perfect excuse!
Blueberry Nut Clusters
[Description]
[row]
[column md="3″]
[Ingredients]
SERVES: 16
INGREDIENTS:
½ cup cacao
1/3-cup coconut oil, melted
1/3-cup rice malt syrup
1-punnet blueberries
1-cup macadamia nuts
½ cup desiccated coconut
[/Ingredients]
[/column]
[column md="9″]
[Method]
Prep TIME: 15mins + overnight
Method:
To begin, roast the macadamia nuts. Spread the nuts out on a baking tray and place in the oven on high for 5-10mins. Be careful, as macadamia nuts are high in fat, they will burn quickly.
Meanwhile mix the coconut oil, rice malt syrup and cacao in a bowl until smooth. Then mix in macadamia nuts, blueberries and coconut. Use two spoons to create little clusters of the mixture on a lined baking tray. Chill in the fridge for 4hours.
[/Method]
[/column]
[/row]
[/Description]
[row]
[/row]
https://www.goodlittleeaters.com/wp-content/uploads/2018/04/IMG_3439-e1535838125553.jpg
3465
3990
Shelley
https://www.goodlittleeaters.com/wp-content/uploads/2022/01/Good-Little-Eaters-Web-Logo.png
Shelley
2018-04-11 20:55:37
2019-04-02 14:31:49
Blueberry Nut Clusters