Are you dreaming of the day where mealtimes are harmonious, enjoyable, and fun? Does the thought of dinnertime send you running and hiding for cover? Some mealtimes can be a real struggle with children not wanting to sit, refusing their food, tears, and tantrums, and throwing their food across the table – does this sound familiar?
Family mealtimes can provide many wonderful opportunities to enjoy good conversation, build connections, and improve children's relationship with food. Eating together allows us to escape the busy demands of the day and be present with each other. Mealtimes are great occasions for parents to role model eating and talking about a variety of foods. Children have an innate desire to mimic their parents, therefore the more we eat fruits and vegetables in front of our children, will encourage this behaviour in our little ones. Studies show that eating meals together as a family increases the diet quality among children with increased intake of fruits and vegetables.
Where to eat!
Do you find getting everyone seated at the table for mealtimes a struggle? Have you ever considered that mealtimes 'don't' have to be at the dining table? Find some alternative fun and exciting spaces to eat your meals together; a picnic outside, sit around the coffee table, or up at the kitchen bench (keep in mind the age of your children as some little ones needs a highchair). If you are creating a space where you can all be together, this is the most important factor. In addition to this, the demands of after school activities and parental working hours can often make getting together at the dinner table impossible.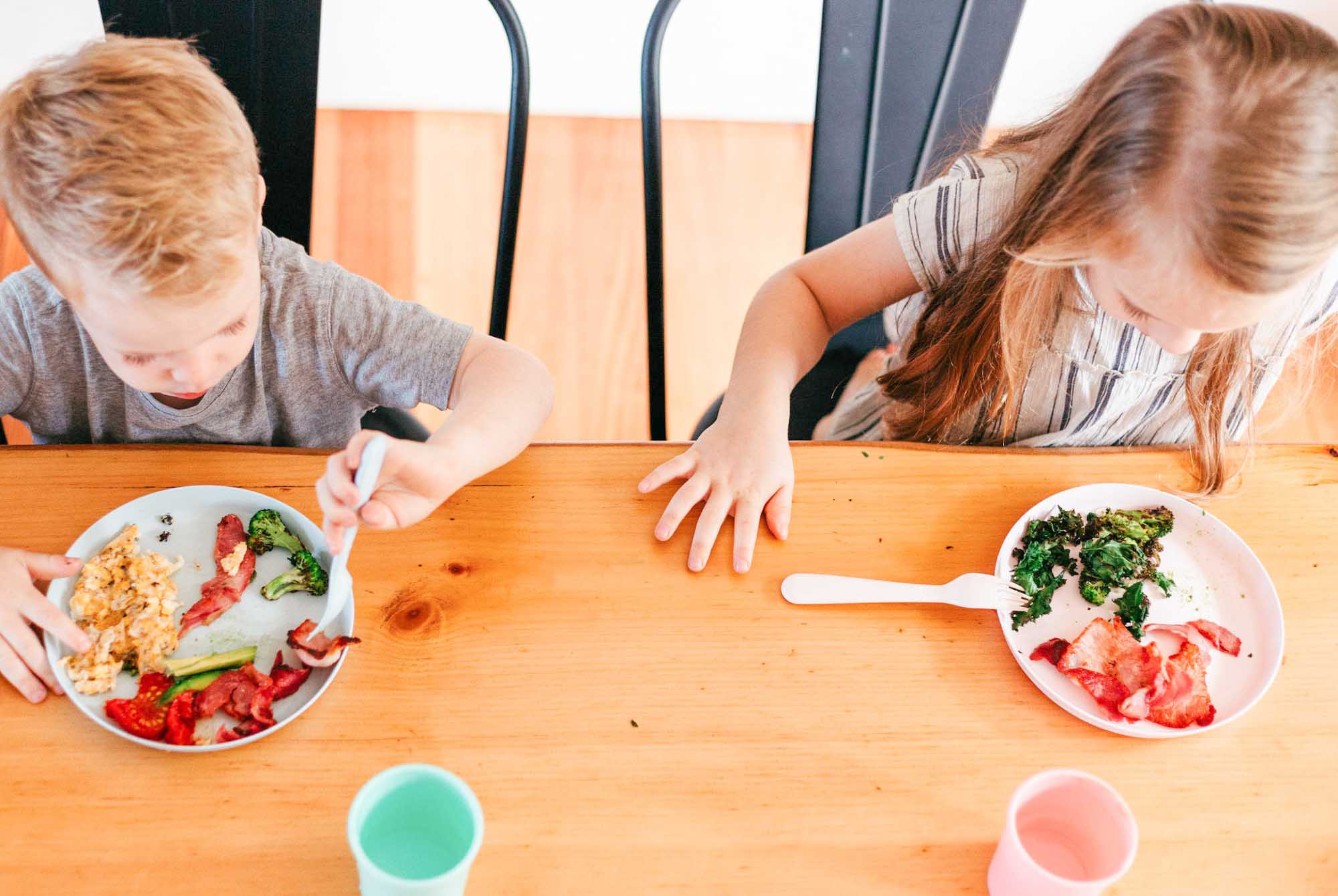 Top Tips
Here we have some wonderful tips to help create a happy and harmonious mealtime environment:
Family mealtimes don't always have to be 'dinner' – having breakfast or lunch together as a family is just as perfect!
Give a five-to-ten-minute warning that breakfast, lunch, dinner will be ready. This can include a verbal warning as well set a visual timer, allowing your children the opportunity to finish what they are doing.
Setting a routine -having a familiar time each day ensures predictability for children
Turn off all distractions. This includes the tv, music and any digital devises and remove any items from the table that will not be used at the meal so you can focus on each other
Have each member of the family be involved in setting the table. This may be placing out napkins, knives and forks, a jug of water, glasses etc.
Keep mealtimes to no longer than 30 minutes (research shows that sitting at the table for longer than this increases food fussiness in children) Most children are done eating in 15 minutes.
Serve small portions of 'new foods' with your child's familiar foods
Conversation starters
Using open ended questions that start with 'tell me about, what if, describe, and I wonder' help to keep the conversation flowing. Some examples are.
Tell me about the best part of your day
What is your idea for something to do on the weekend?
Describe your favourite food on the plate
What shall we have for dinner tomorrow night?
Tell me about the colours you see on your plate
I wonder what sound this will make when I bite into it – tell me what you hear
Tell me what it feels like when you chew
Allow everybody the opportunity to talk – sometimes a visual cue can help. Allowing the person speaking to hold a wooden spoon or ladle, this reminds everyone else that it is their turn to listen.
Positive Mealtime Talk
Keep mealtime talk positive, this means save any of those tricky conversations for another time. It is important to acknowledge everyone's input to the conversation. For example, 'I really like that idea – let's think about how that might work,' or 'I like your idea for nuggets tomorrow, we don't have nuggets but do have chicken we can crumb ourselves', or 'we only have chicken – I wonder if we crumb the chicken, we can have that tomorrow and eat chicken nuggets on Friday'.
Bring some 'love' to the table.
Love and connection are vital to being healthy – mealtimes are perfect opportunities to 'feed each other with loving words and kindness.'
https://www.goodlittleeaters.com/wp-content/uploads/2020/05/SGEbrandphotography-2.jpg
1333
2000
Shelley
https://www.goodlittleeaters.com/wp-content/uploads/2022/01/Good-Little-Eaters-Web-Logo.png
Shelley
2022-11-14 05:00:03
2022-10-25 17:24:29
Creating Happy Mealtimes