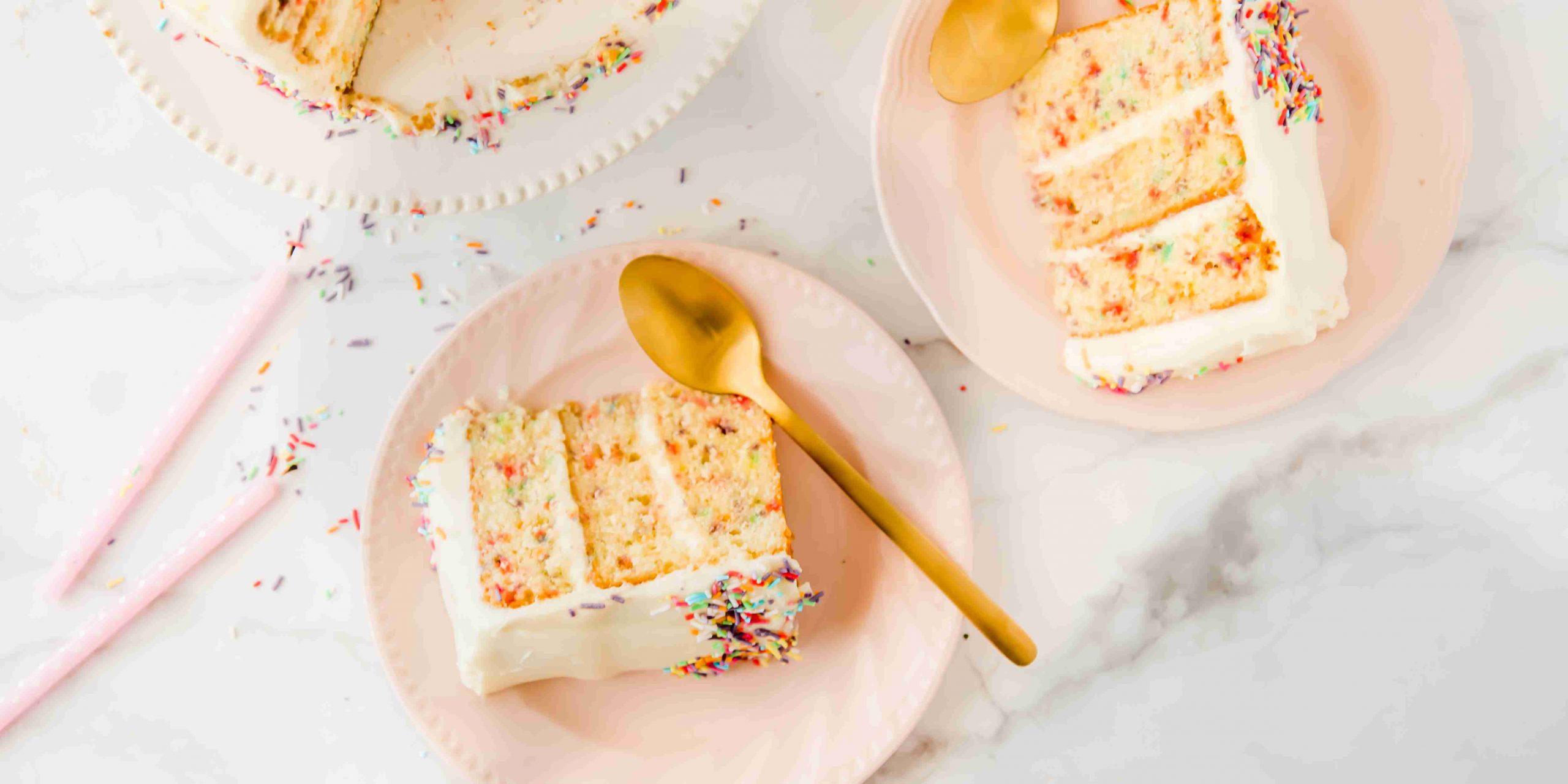 I am 26 today and I fully intend on eating this cake. I made it for myself, because what type of food blogger would I be without making one for myself.
And when I say cake I mean with REAL flour, sugar, eggs, butter. You name it! Why am I so passionate about this? Why a I a nutritionist promoting eating cake?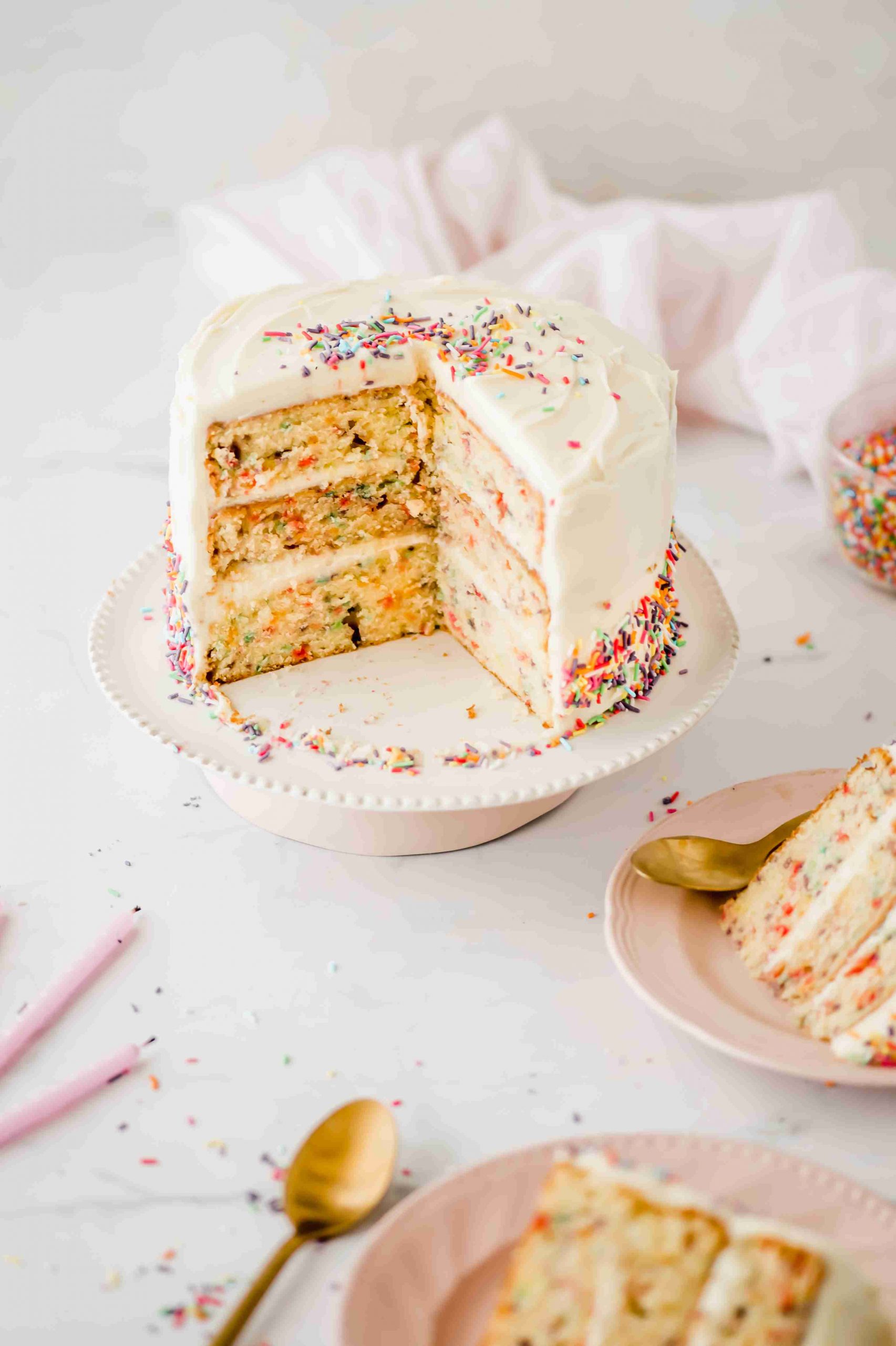 Why I always eat cake on my birthday!
My fondest memories of my childhood was picking the cake my mum would make me for my birthday – one year I got three (school, actually birthday, and party!! I thought I had won the lottery!). So to me it signifies learning to bake with my mum and celebrating and having fun with family and friends! OH and turning one year older, though I am slowly coming to that AGE where you don't want to make a fuss of it anymore.
So I may be a nutritionist but I am a nutritionist that urges you to keep eating cake! Eat food that makes you feel good. So eat vegetables and grains and legumes and protein because they make you feel great and make your body function well. But also eat cake because it makes you feel good, eat it because of what it signifies for you!
So instead of finding healthy options for your kid's birthday, make it with them and demonstrate to them that eating it is ok. That it is allowed! Because what a healthy watermelon cake tells them is that this food is not allowed, that it should be restricted.
Your kid is going to attend birthday parties; they are going to have the option of eating unhealthier foods. So show them that it is allowed as this can prevent kids from going crazy at parties, because its just another food, not some special treat that should otherwise be restricted.
So here is to making delicious cakes to celebrate our birthdays! Its how I plan on spending my big day today (plus a little work, because its unavoidable!). And best yet make this recipe for your kids because they will love it, I have never met a kid who doesn't love sprinkles!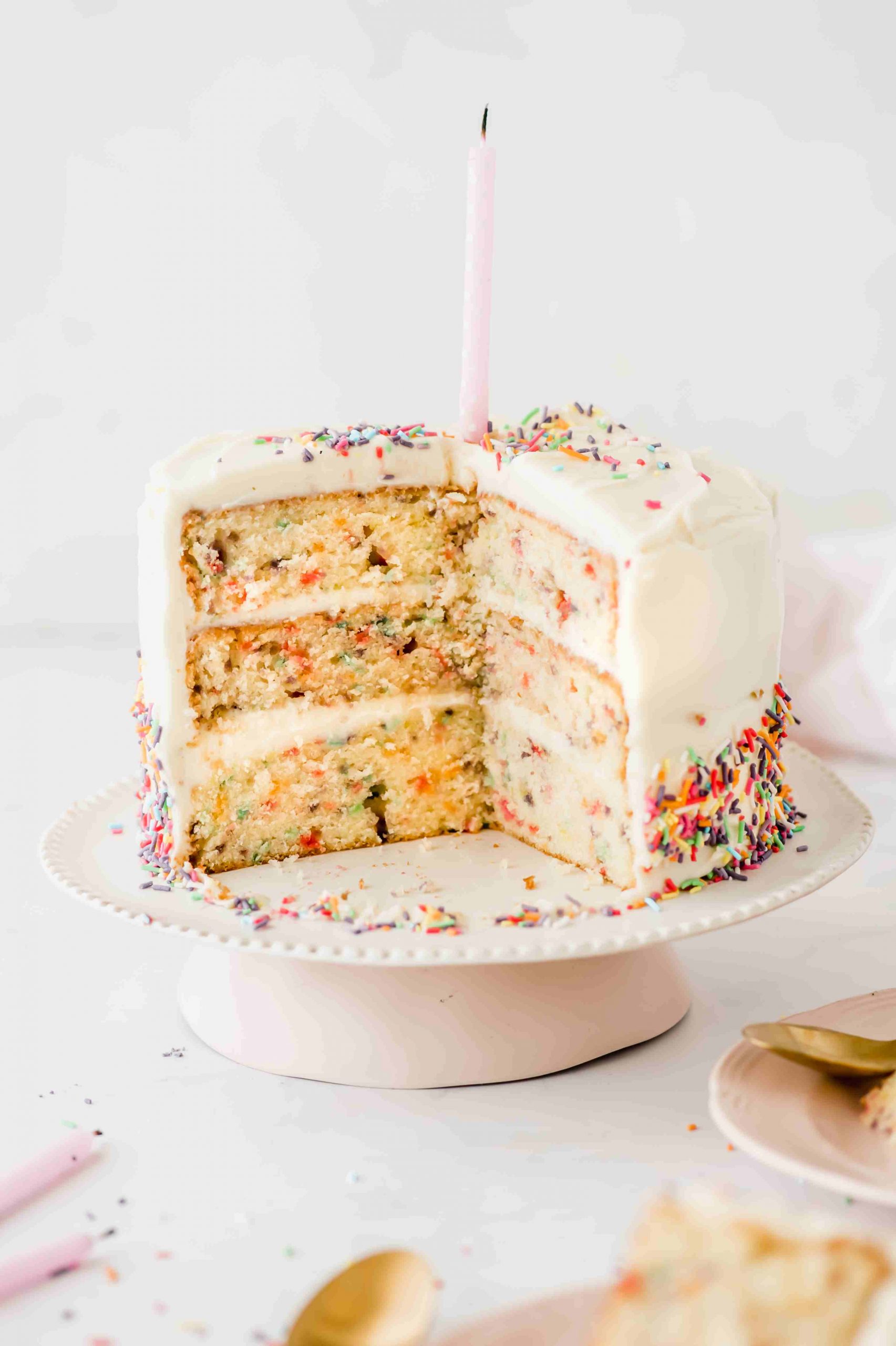 Funfetti Birthday Cake
Birthdays are for enjoying cake and celebrating someone you love! So ditch the healthy cake and make something you will all love!
Ingredients
225

g

butter

softened

200

g

sugar

3

eggs

1

tsp

vanilla

2

cups

plain flour

1

tsp

baking powder

1/2

tsp

bi carb soda

1

cup

buttermilk

1/2

cup

sprinkles
Icing
1

Batch Cream Cheese Icing or 2 x Philly Cream cheese icing packs

3

tbsp

Sprinkles
Instructions
Preheat the oven to 170C and line the base of 3x 6inch cake tins or 2 x 8inch baking tins.

Cream the butter and sugar in a large bowl with electric beaters. Then add in 1 egg at a time. Beating until smooth and creamy. Add in vanilla. Use a wooden spoon to fold in plain flour, baking powder and bi carb soda, alternating with buttermilk.

Finally fold in sprinkles, be careful not to over mix.

Bake in the oven for 25-30min until cooked through. Allow to cool for 10mins before removing from their tins and then cool completely on a wire rack.

Meanwhile make the cream cheese frosting or if using the new philly cream cheese icing packs you can ignore this pack.

Once the cakes are cooled carefully cut off the top of the cakes with a serrated knife if they are not flat.

Then place one cake on a plate, top with 1/4 cup icing, repeat until all cakes are layered. Then carefully spread your remaining icing around the edge. Smooth it down with a bench scraper or pallet knife. Top with sprinkles.

Keep cake in the fridge if it's a hot day, and remove 20min before serving to allow icing to soften.
Other great cake recipes for your special days:
https://www.goodlittleeaters.com/wp-content/uploads/2019/11/cake4-scaled.jpeg
1280
2560
Shelley
https://www.goodlittleeaters.com/wp-content/uploads/2022/01/Good-Little-Eaters-Web-Logo.png
Shelley
2019-11-25 19:10:33
2020-06-22 09:56:40
Funfetti Birthday Layer Cake