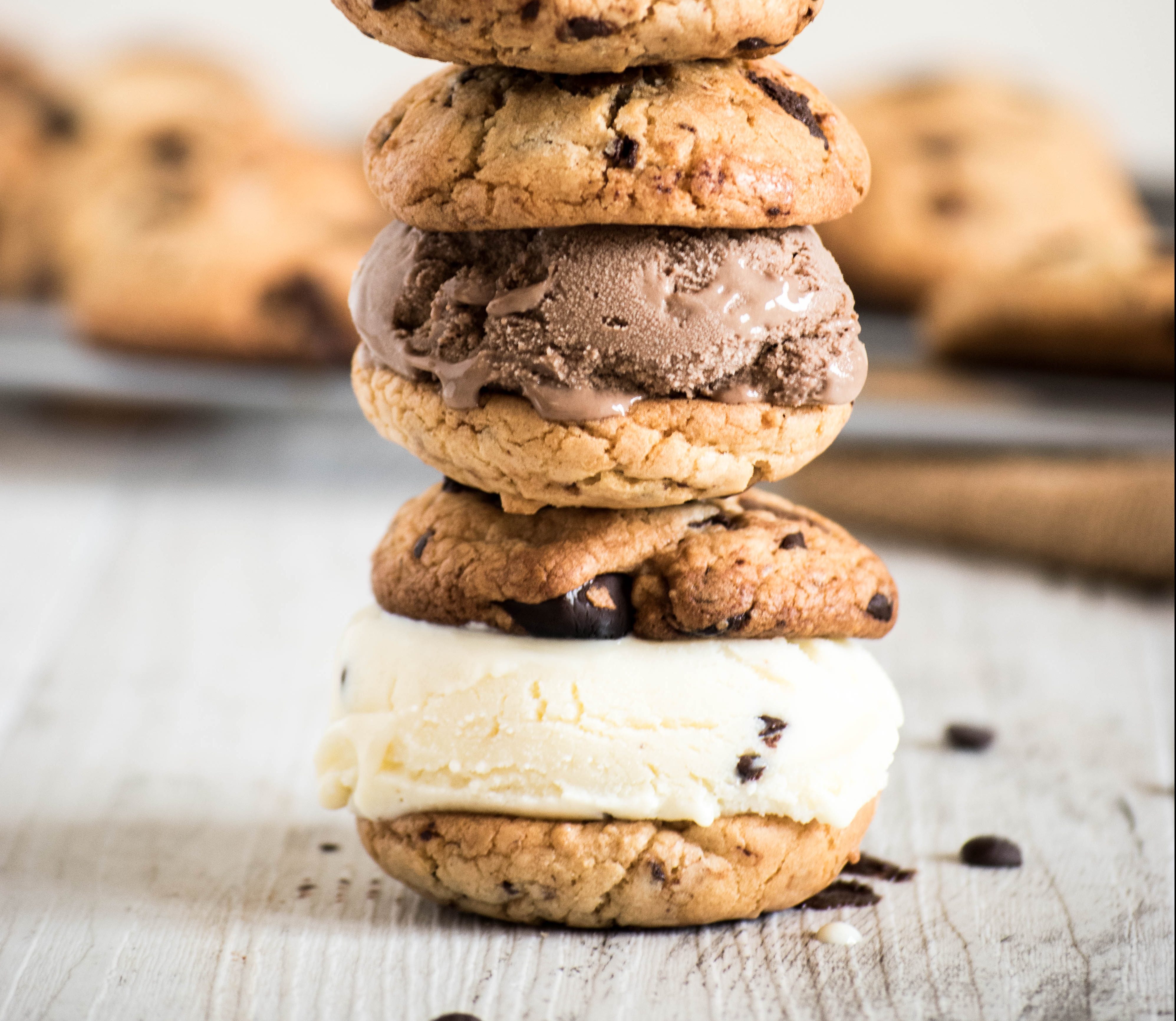 These Choc chip cookies are favourite amongst my friends. Maybe it's because they don't have my usual healthy twist on things, but whats life without a little treat, and sugar! But when it comes to choc chip cookies, they really don't get much better then this. Soft, chewy on the inside and crunchy on the out. The salt adds that savoury element to bite through the sweetness!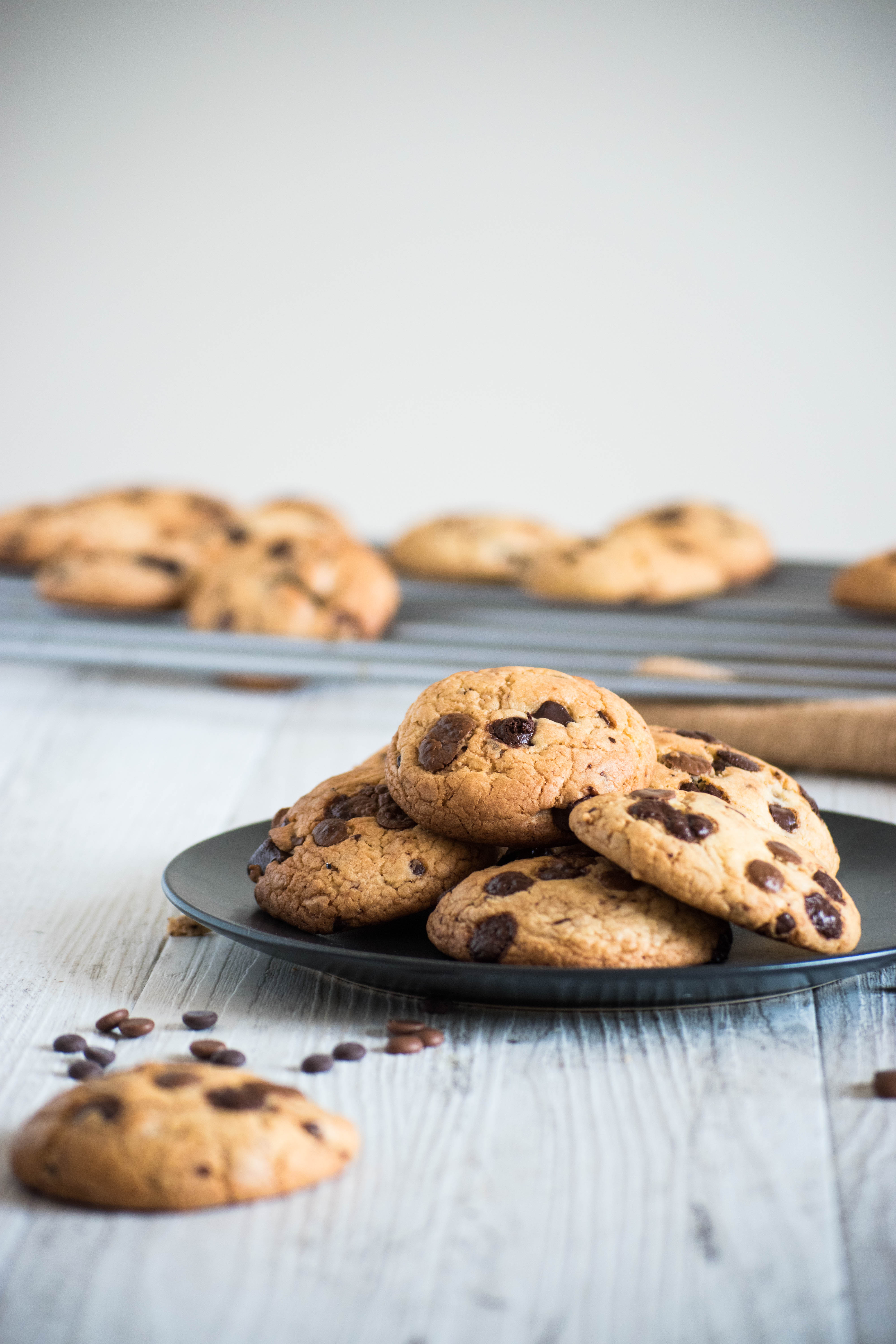 Last weekend I used these cookies to make ice cream sandwiches – YUM! I used Halo top to make these. It is the perfect 'healthier' option to Ice cream, but somehow still manages to be delicious and creamy!!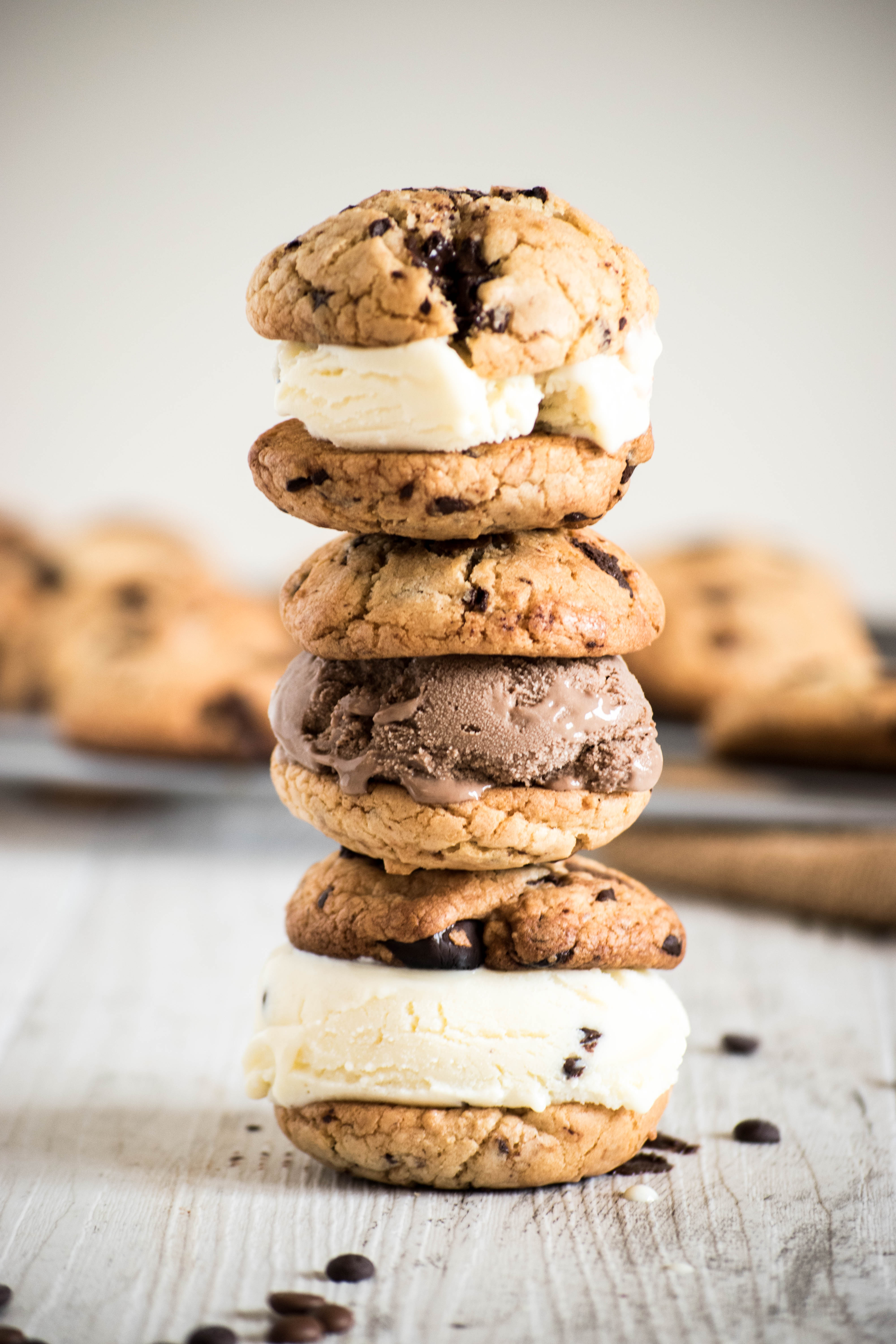 Ice Cream Choc Chip Cookie Sandwiches
[Description]
[row]
[column md="3″]
[Ingredients]
SERVES: 10
INGREDIENTS:
125g butter

1 cup brown sugar

1/4 caster sugar (or white sugar)

1 egg

1 tsp vanilla essence

1 cup self-raising flour

3/4 cup plain flour

1 tsp baking powder

1 cup milk chocolate chips

2 tsp coarse himalayen salt

Halo top ice cream – I used chocolate, birthday cake and choc mint.
[/Ingredients]
[/column]
[column md="9″]
[Method]
Prep TIME: 1 hour
Cooking TIME: 15mins
Method:
Make the cookies: Preheat the oven to 160°C. Melt butter in a saucepan over medium heat (or in the microwave) and set aside to cool slightly. Pour butter into a large bowl and stir in brown sugar and caster sugar until smooth and sugar is mostly dissolved. Lightly beat the egg with a whisk or fork and stir into the sugar mixture along with the vanilla. Sift flours and baking powder together into a small bowl and then gradually mix into sugar mixture until combined. Stir through chocolate chips. Drop rounded tablespoons of the cookie mixture onto lined baking trays. Sprinkle cookies with salt and then bake for 12 minutes or until golden.  Then remove from oven and allow to cool on trays for 3 minutes before transferring to a wire rack to cool completely.
Once the cookies have cooled completely match them up to each sizes and then sandwich one scoop of Ice cream into the pairs. Keep in the freezer for up to 1 week!
[/Method]
[/column]
[/row]
[/Description]
[row]
[/row]
https://www.goodlittleeaters.com/wp-content/uploads/2018/01/DSC_0388-e1536223337507.jpg
3465
3990
Shelley
https://www.goodlittleeaters.com/wp-content/uploads/2022/01/Good-Little-Eaters-Web-Logo.png
Shelley
2018-01-10 09:55:14
2020-06-22 10:10:47
Ice Cream Cookie Sandwiches