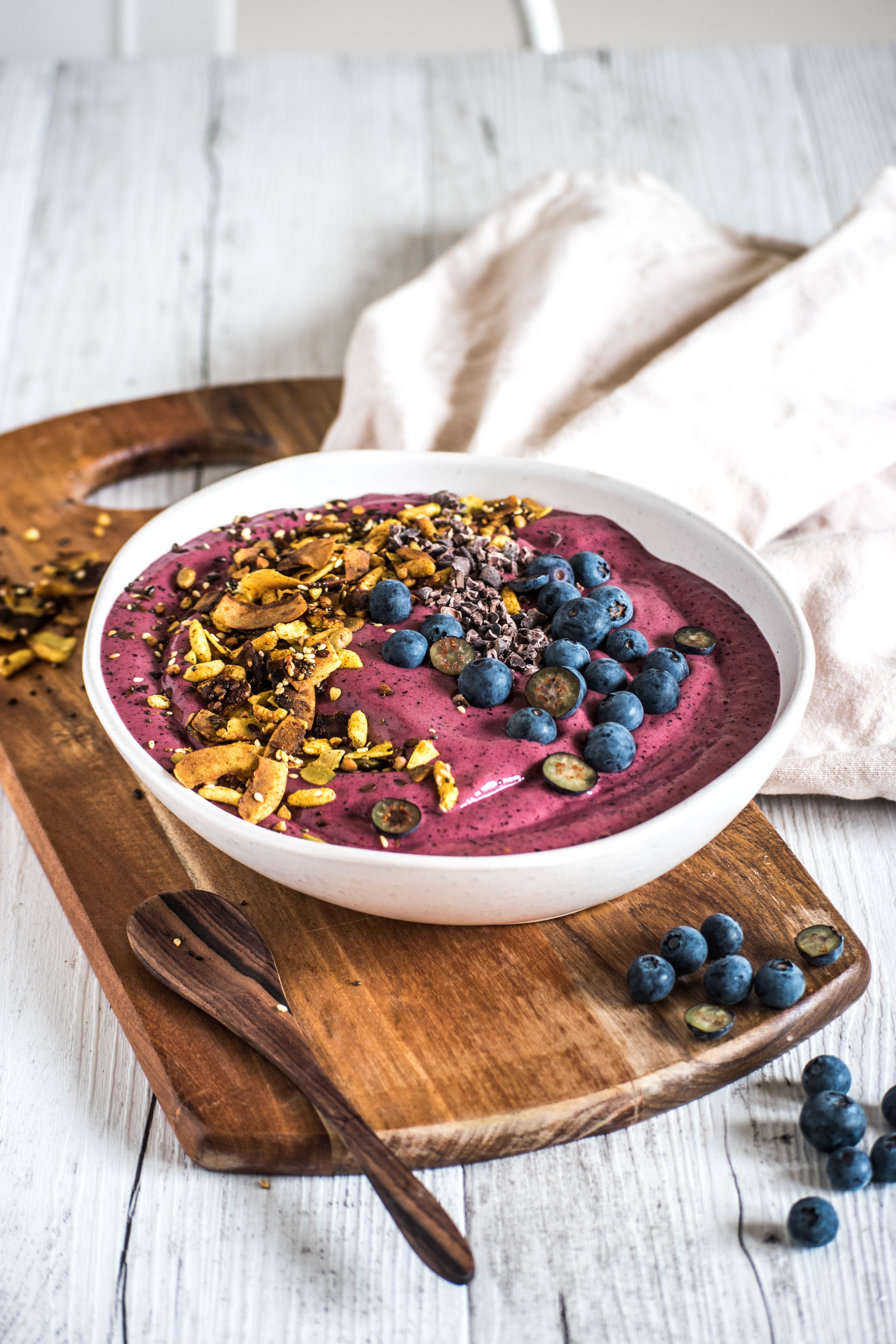 I eat everything – I am really not a fussy person…. expect when it comes to bananas. Yes, you read that right. I can not stand bananas.
I get looks of confusion all the time, 'but you're so healthy how could you not?'
Trust me, I know how great bananas are, they really are the powerhouse of fruit!! But no matter how I try, I can't stomach the taste (or smell).
Where am I going with this? Well, every damn smoothie bowl out there is made of them – what is my best substitute? FROZEN MANGO. It makes for the creamiest delicious smoothie bowls. Though mango is slightly higher in sugar, so my favourite thing to pair it with is tart frozen berries!
Do yourself a favour, ditch the banana for this one recipe and try the best smoothie bowl ever (go bold or go home right?)
The Best Mixed Berry Smoothie Bowl
[Description]
[row]
[column md="3″]
[Ingredients]
SERVES: 1
INGREDIENTS:
3/4 cup frozen mango¾ cup frozen berries

½ cup coconut water

1 tbsp yoghurt (optional)

1 scoop vanilla protein (optional)
[/Ingredients]
[/column]
[column md="9″]
[Method]
Prep TIME: 5min
Method:
Add all ingredients into a blender. I use a nutribullet! Then blitz on high for 1-2 mins or until smooth. Pour into a bowl and top with you favourite ingredients. Some of my favourite are my home granola, blueberries and cacao nibs.
[/Method]
[/column]
[/row]
[/Description]
[row]
[/row]
https://www.goodlittleeaters.com/wp-content/uploads/2017/12/DSC_0180.jpg
6000
4000
Shelley
https://www.goodlittleeaters.com/wp-content/uploads/2022/01/Good-Little-Eaters-Web-Logo.png
Shelley
2017-12-09 20:02:11
2020-06-22 10:07:58
Mixed Berry Smoothie Bowl