Hello and Happy New Years from us here at Shelley's Good Eats. With the arrival of the new decade, comes the beginning of the 2020 school year. Growing children brings new uniform sizes, longer stationary lists and endless thoughts about all the basics your kids will need for their first term back at school. Of course, somewhere on that list of basics, sits your kids' lunchboxes. And when we say lunchboxes, we are not just talking about which Frozen character should star on the front of your child's lunchbox…but also, what sorts of foods you'll be stuffing inside them on the first day back at school.
It's safe to say with the stress of the approaching school term, sustainability is the furthest thing from your mind. Here at Shelley's Good Eats we understand that it can be hard for parents to juggle this hectic time, while also making more sustainable food-packaging choices a priority. That's why we have come up with some simple sustainability suggestions to help reduce the plastic waste in your kids lunchboxes, while also saving you a bit of money in the long-run!
1. Ditch the single-served packaged foods
While these miniature food portions may be appealing to your children, one thing they certainly do not save on is packaging waste. Not to mention that these options are far more expensive per weight, because of all the extra packaging, making them less budget-friendly. While these items can save you time, they are unfortunately a simple example of clever marketing at play. These brands are targeting children with their special sizes and packaging, while also targeting time-poor parents. Below is an example of the price comparison of the exact same product in regular sized packaging and single-sized.
2. Invest in a bento-style lunchbox
A good lunch box, with built in compartments, can help reduce the amount of packaging needed to pack your kids' lunch before they head off to school. They can also help you save the time you would usual spend rummaging around for containers or bags in your kitchen draws. Here at Shelley's Good Eats, we know that it can be hard to keep your kids' belongings in good condition…however, an important part of reducing our waste includes buying less. This means, where possible, we should try and reuse more of what we already have, rather than buying something new! Rather than buying a new lunchbox at the beginning of each school year, opt for a durable and practical option, that is more likely to survive the likely neglect your child shows it during the school day.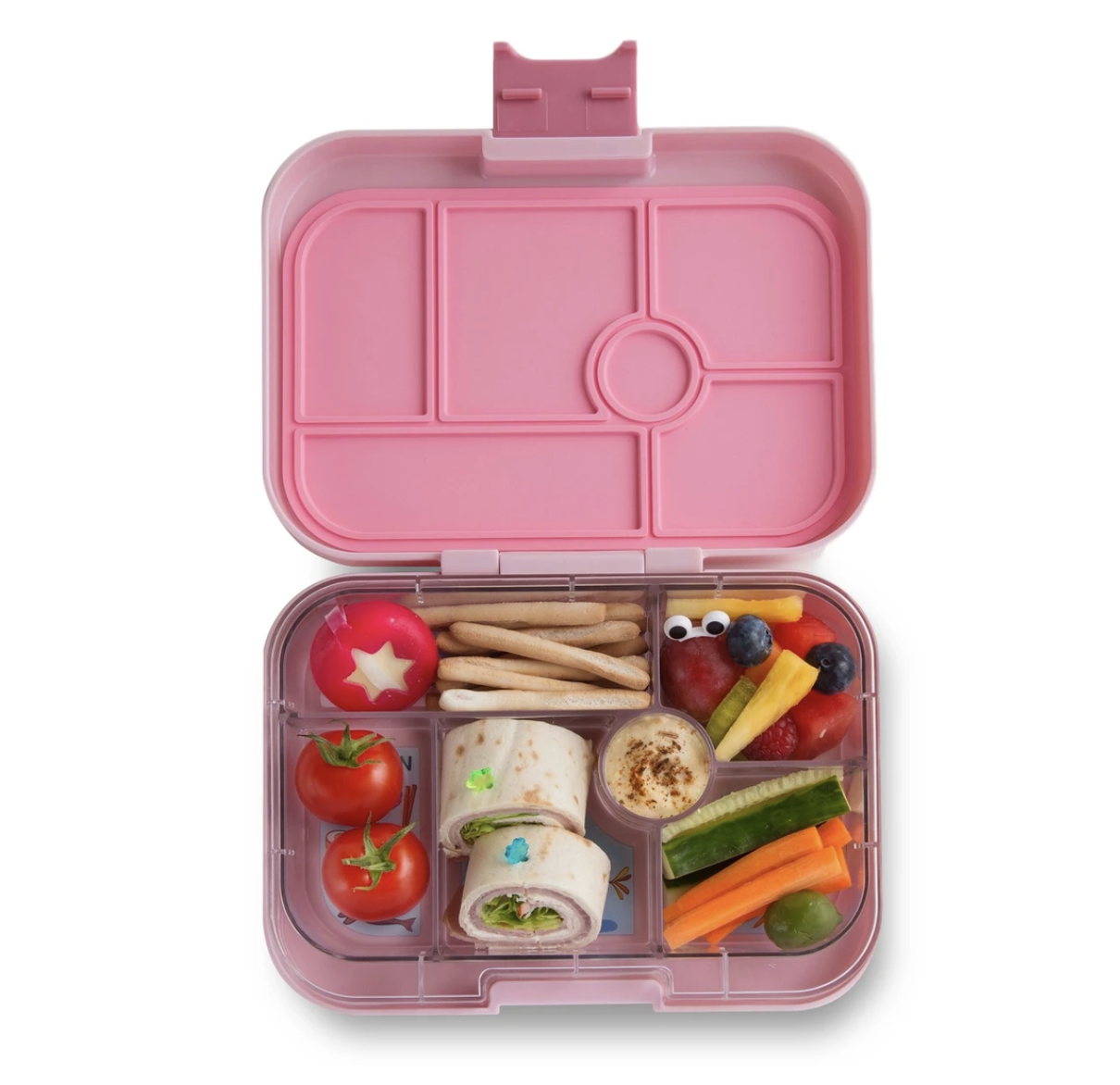 3. Say no to single-use plastic baggies and wraps
Once upon a time, single-use plastic wrapping and bags brought convenience into the homes and lives of many busy families, when the eco-friendly alternatives were either much more complicated or simply, non-existent. However, with our plastic pollution becoming an ever-growing problem, fortunately the eco-friendly plastic-alternatives is a growing market, here to answer our sustainability prayers. Many Australian companies are offering new eco-friendly products, which will soon become family favourites to replace the old faithful cling-wrap and sandwich bags in your kids' lunchboxes. These products take the form of reusable silicone pouches, wax-wraps and other material bags, wraps and pouches, durable products that will help your family save money and waste in the long run. Biome, Go for Zero, Nourished Life and Flora and Fauna, are some of the best Australian-based companies who have all your plastic-free back-to-school prayers covered!
Here at Shelley's Good Eats, we think that sustainability should be stress free…especially when it comes to your kids! Waste, to a certain degree, is unavoidable. Making sure you and your family are disposing of your waste in the eco-friendliest ways by separating your trash and recycling where possible, is one of the most effective ways to reduce your impact. If you are confused about how to implement recycling into your home, you can read our recycling how to's and don't do's blog post, here.
To help kick-start the 2020 school year, Shelley's Good Eats has partnered with some local brands, to bring you a back-to-school give away that we hope will take some of the stress off parents preparing for the new school term. Head over to the @shelleysgoodeats Instagram, next Monday the 20th of January, to keep an eye out for our announcement!
Good luck and have a happy sustainable Tuesday, from our family to yours.
– The Shelley's Good Eats team
A bit about the Author

Hi my name is Karly. I am a 3rd year Nutrition student, studying on the beautiful Sunshine Coast. I work as an assistant at Shelley's Good Eats, in-between my studies. As well as having a passion for all things nutrition, I also have a keen interest in sustainability. In the future, I would love to combine both of my passions and educate people in a dynamic and multifaceted way.  
https://www.goodlittleeaters.com/wp-content/uploads/2020/01/reduceplastic-2-scaled.jpg
1280
2560
Shelley
https://www.goodlittleeaters.com/wp-content/uploads/2022/01/Good-Little-Eaters-Web-Logo.png
Shelley
2020-01-13 06:15:32
2022-01-24 10:08:20
How to reduce plastic waste in your kids lunchbox