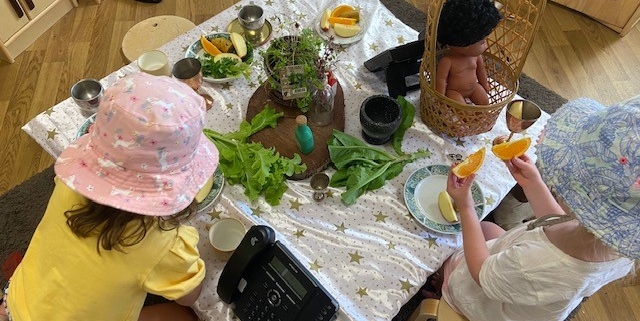 You may have once been a proud parent of a child who ate anything and everything. But without warning they stop eating the foods they once loved – and before you know it you have a picky eater. This is where food engagement comes in!
It is common for children between the ages of 2 to 6 years to become very picky in what they eat, even the foods they once loved. One reason being the texture of food? This can be a real trigger for children to start rejecting foods, alongside the smell and taste. One way we can support children to improve their attitude toward foods is through repeated exposure to fruits and vegetables in various forms. You may have heard that it can take up to 15 exposures to food before they'll try and accept a new food – some little people (even adults) can take years of exposure. However, exposure is not about tasting the food – it involves all our senses, touch, smell, sound, sight, and taste.
This might sound crazy but providing 'real food' for children to play with ignites all these senses, whilst also allowing them control to approach new foods on their terms (Use these activities to get your children engaging with food). Allowing children to 'play' with food using their hands increases the exposure to the tactile properties and helps improve acceptance. It removes the battles we sometimes see at the dinner table and helps them increase variety. Children are naturally curious learners, and when they engage in play they are learning and making sense of the world in which they live. The idea of 'food play' allows children to freely express their ideas safely and freely.
Children love to mimic their parents; therefore, you might see your little one offering some sugar snap peas to their doll or action man toy, it may even encourage them to take a bite for themselves.
How to set the scene for engagement
Find a space in your home, this could be your lounge room, child's bedroom or even outside. We want to create an area where children can act out real life experiences, and mimic elements of their home life.
Setting up a pretend kitchen is a great place to start. Think about what could be used to create an oven, this could be as simple as a box, a chair etc. Next place a couple of baby dolls, some real utensils (spoons, ladles etc), 2 bowls, 2 cups, perhaps some small saucepans from your cupboard – you can add more if you please.
Set some sugar snap peas on saucers and herbs in teacups placed in front of a doll. If you do not have dolls perhaps use some soft cuddly toys, or action figurines, cars, and trucks. Whatever interest your little person has, use these toys within the set up. Use any food items but try to include preferred and non-preferred foods during these play experiences.

Further ideas
You might set up farmyard play using animal figurines, broccoli as trees, cauliflower, parsley (let your imagination set the space)
Place a pumpkin in the centre of the action figures.
Now imagine what a child might do with this food; pretend to feed the baby, place the food in the tip truck, the action figurine might jump off the pumpkin.
Regardless of how your little one plays with this they are being exposed to food. Join in with your little one and have fun, relax, and let them explore.
Whilst playing with real food children are:
Feeling the weight of a pumpkin (mathematical concepts)
Hearing the snap of peas being popped,
Holding an apple and other various food items, building their finger and hand control
Smelling the scent of fresh herbs, citrus foods, and other sweet fruits
Peeling a lettuce, layer by layer (what an amazing opportunity)
Verbalise sensory aspects of the food
Handling and perhaps tasting foods never being exposed to before
Counting sugar snap peas (mathematical concepts)
Pulling apart a mandarin, piece by piece
Learning different textures
To use real food and utensils allows little people the opportunity to be curious, to have conversations, to think critically, to explore mathematical concepts, develop self-autonomy and independence, and build comfort in trying new things.  The benefits are endless!
Are you concerned about food wastage?
The alternative to using real food in play is manufactured plastic. A material that can take up to 450 years to break down. Plastic pretend food all feels, weighs, and smells the same, whilst also having the same glossy perfect colour in appearance, far from what real food is.
What can we do to be more sustainable when using real food?
Growing your own foods – this can be as simple as some hardy herbs
Using food that is near its use by date
Asking the local supermarket for the outer lettuce leaves
Make use of a worm farm or compost bin to dispose of the food after play and might be inedible (watching nature break down food – a wonderful science lesson)
Using left-over foods from the night before
We hope this helps build your little one's acceptance to foods. Letting children feel all the different textures, smelling all the smells and having fun is a step in getting them to be familiar with foods, and you never know they might just grow to love eating them.
Download our FREE Food Exposure Guide for Fussy Eaters here for more ideas to get your little one engaged and trying new foods!
https://www.goodlittleeaters.com/wp-content/uploads/2022/10/food-expos-2.jpg
480
640
Shelley
https://www.goodlittleeaters.com/wp-content/uploads/2022/01/Good-Little-Eaters-Web-Logo.png
Shelley
2022-11-07 05:00:04
2022-10-25 17:17:17
Increasing Exposures by playing with 'real' food