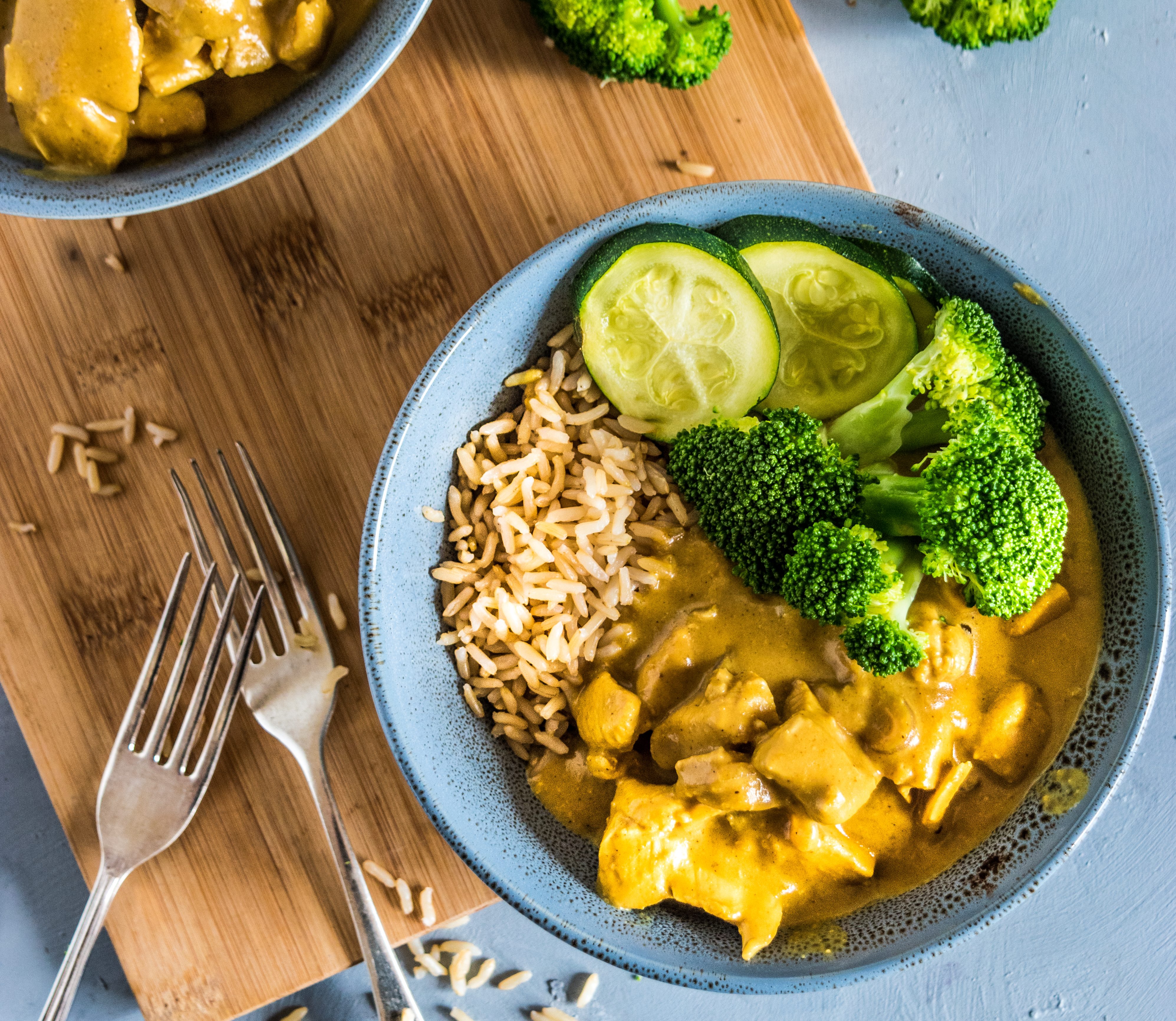 Chicken and rice bowls are a classic when it comes to quick, healthy and nutritious meals. But plan grilled chicken is a little boring so a changed it up with satay chicken. This is an absolute favourite of mine and my sisters. It is super creamy, delicious and filling! Who said peanut butter was only for sweets?
For recipes like this, I always make a double quantity and then divide it up into containers with enough for 2 portions and freeze it! Yep, I happily admit I live out of my freezer most weeknights.
Satay Chicken Bowls
[Description]
[row]
[column md="3″]
[Ingredients]
SERVES: 4
INGREDIENTS:
1tbsp peanut oil
500g Chicken Breast
1 brown onion
2 cloves garlic
1 tbsp curry powder
½ cup peanut butter
1 can coconut milk
1 tbsp soy sauce
1 tbsp kecap manis
2 cups brown rice
1 large head of broccoli
2 zucchini's
[/Ingredients]
[/column]
[column md="9″]
[Method]
Prep TIME: 15mins
Cooking TIME: 15mins
Method:
Slice the chicken into 1inch pieces. Add half the peanut oil to a large fry pan on high heat. Add in the chicken breast and cook for 3mins on each side, until slightly browned, but not cooked through. Remove chicken from the pan and put to the side.
Meanwhile, finely dice the onion and crush the garlic. Add remaining peanut oil to the pan and heat on high, then add in onion and garlic and saute for 2-3mins until onion becomes soft and opaque. Stir in curry powder and cook for 1mins until fragrant.
Then add in peanut butter, coconut milk, soy sauce and kecap manis and stir to combine. Bring to the boil, and then reduce to simmer. Add chicken and simmer for 20mins. If it starts to thicken up too much, add ½ cup water.
Cook the rice as per packet instruction. Meanwhile, slice the zucchini and chop the broccoli into small sections. Add both to a microwave container and heat on high for 2mins.
Divide the rice among 4 bowls, then top with zucchini, broccoli and satay chicken.
Enjoy! I often make double and freeze the other portion!
[/Method]
[/column]
[/row]
[/Description]
[row]
[/row]
https://www.goodlittleeaters.com/wp-content/uploads/2018/04/DSC_0579-e1535838039298.jpg
3465
3990
Shelley
https://www.goodlittleeaters.com/wp-content/uploads/2022/01/Good-Little-Eaters-Web-Logo.png
Shelley
2018-04-20 22:42:46
2022-01-24 11:12:52
Satay Chicken Bowl