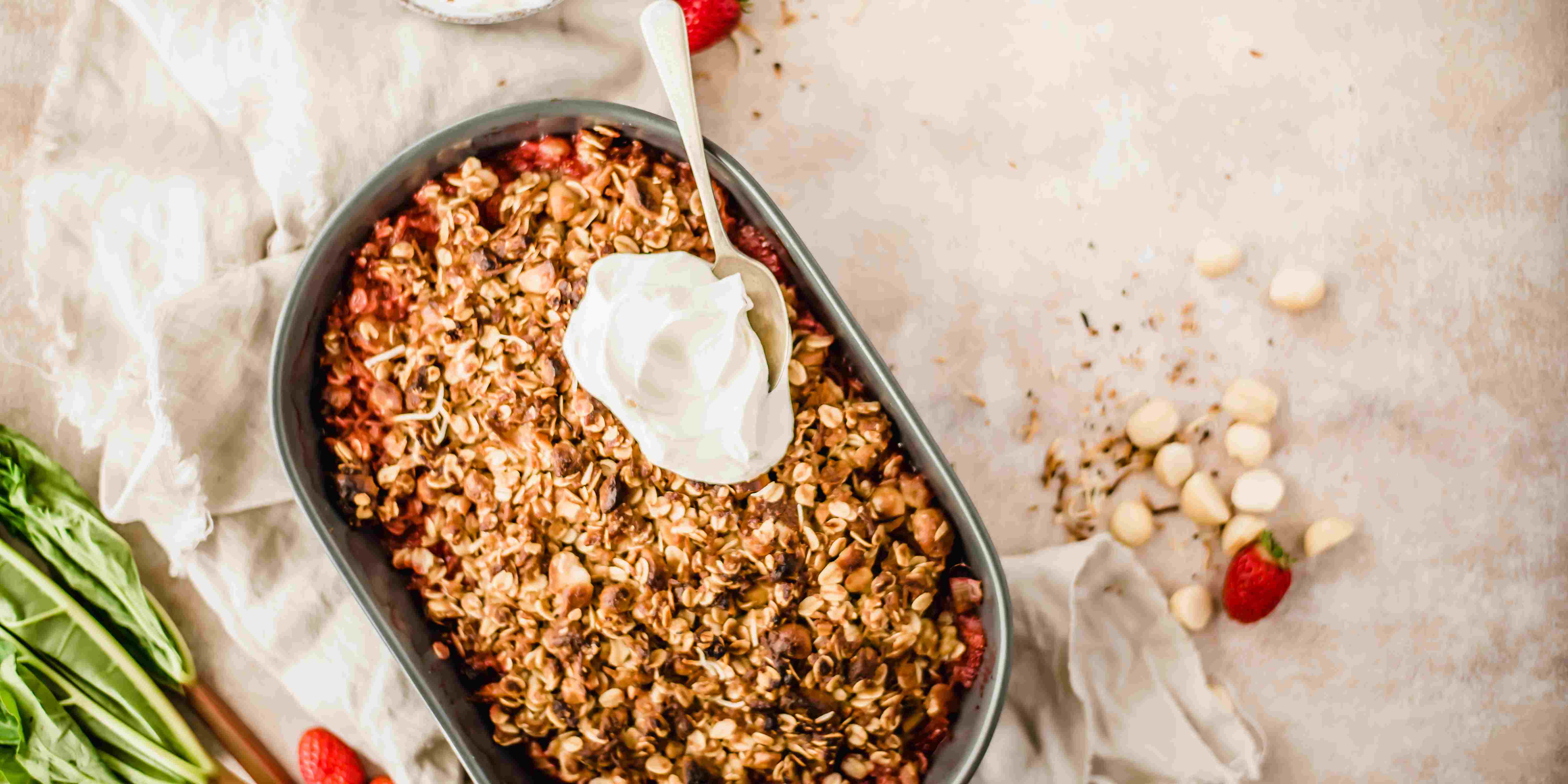 I grew up eating this. My mum used to make this weekly for us during winter and our family were sticklers for dessert (everynight!!). I feel like I start off a lot of recipe posts like this. But I do, because everything I share on this blog, or at least 85% of it was inspired by my life growing up. I want to share the recipes of my childhood to show you just how much variety you can include in your diet and STILL BE HEALTHY!
Because if you didn't know, healthy does NOT have to be boring.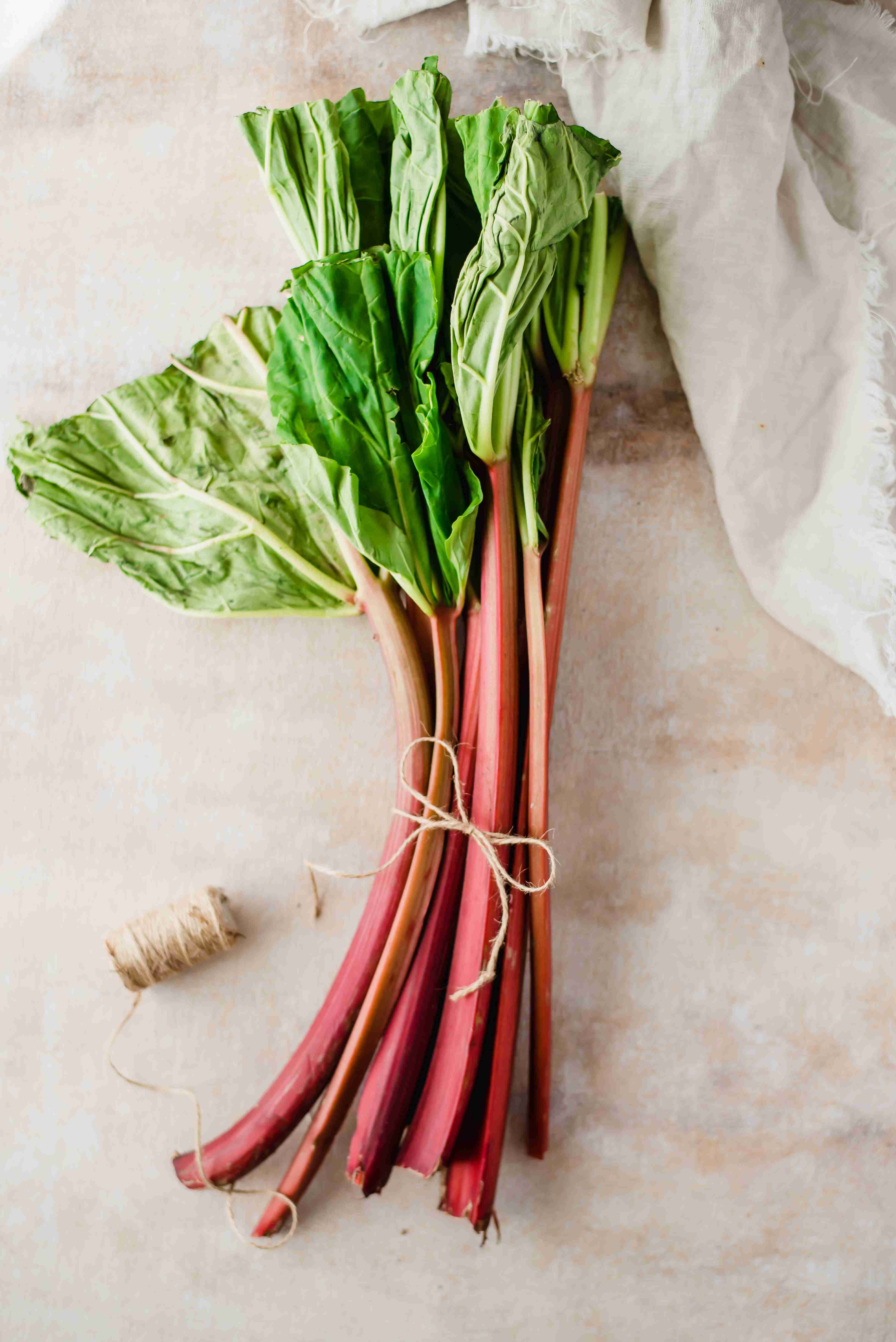 Rhubarb is one of those confused vegetables…. yes it is a vegetable! The exact opposite to tomatoes, rhubarb is actually a vegetable but we use it as a fruit. It is a little sweet and tart and the perfect stewed in desserts like this strawberry and rhubarb crumble and or on top of oats.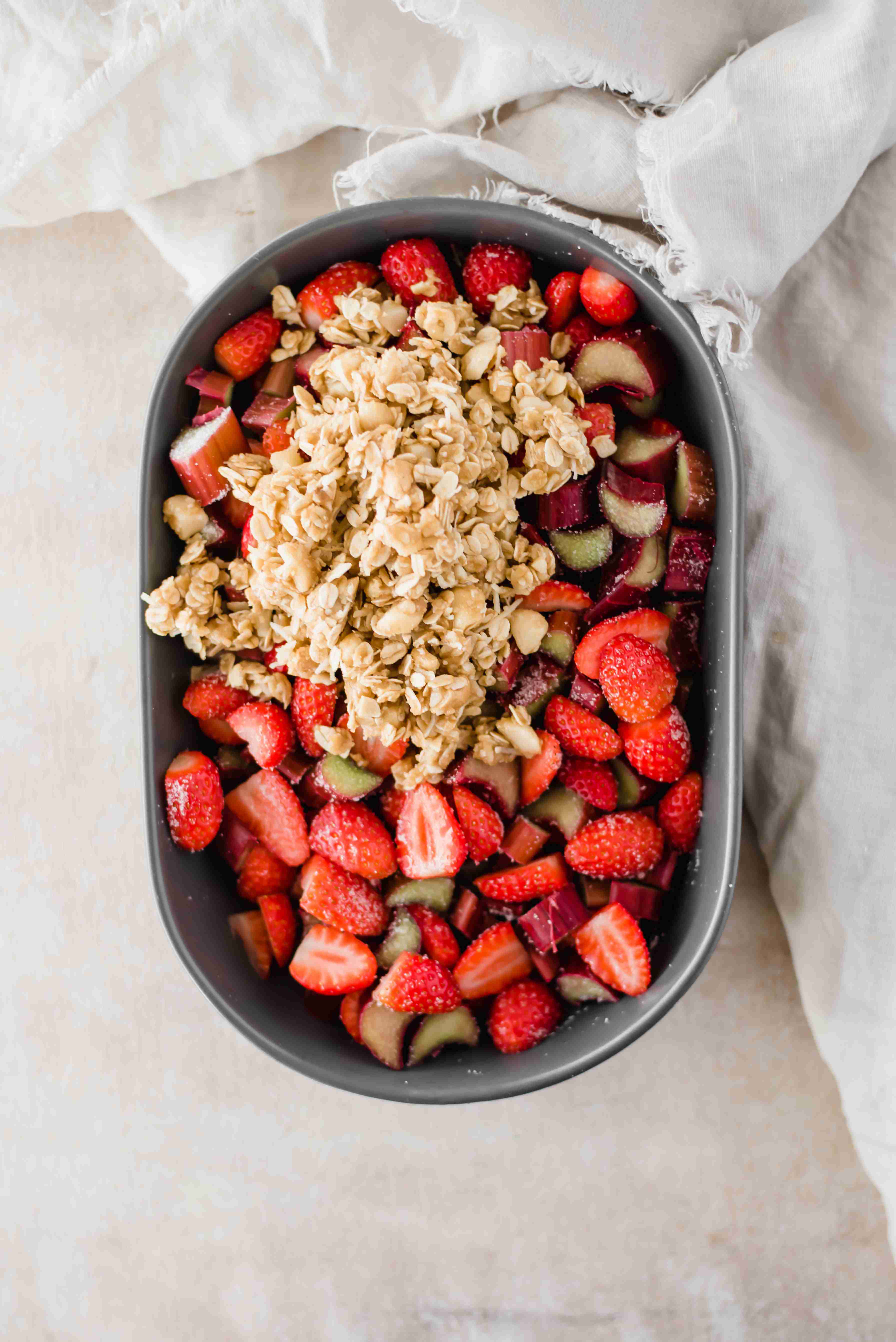 Sweet strawberries go perfectly with tart rhubarb and they cook at the same rate, so there is no need for pre strewing the fruit before topping with your crumble. 
Strawberries are actually in over supply at the moment as QLD strawberry farmers have had fantastic conditions. But we need to help the farmers by buying them all up before the excess strawberries go to waste. Strawberry and rhubarb crumble has always been my favourite way to use them.
Though if you still have more, remove the tops and freeze them for loads of delicious smoothies and baking later in the year!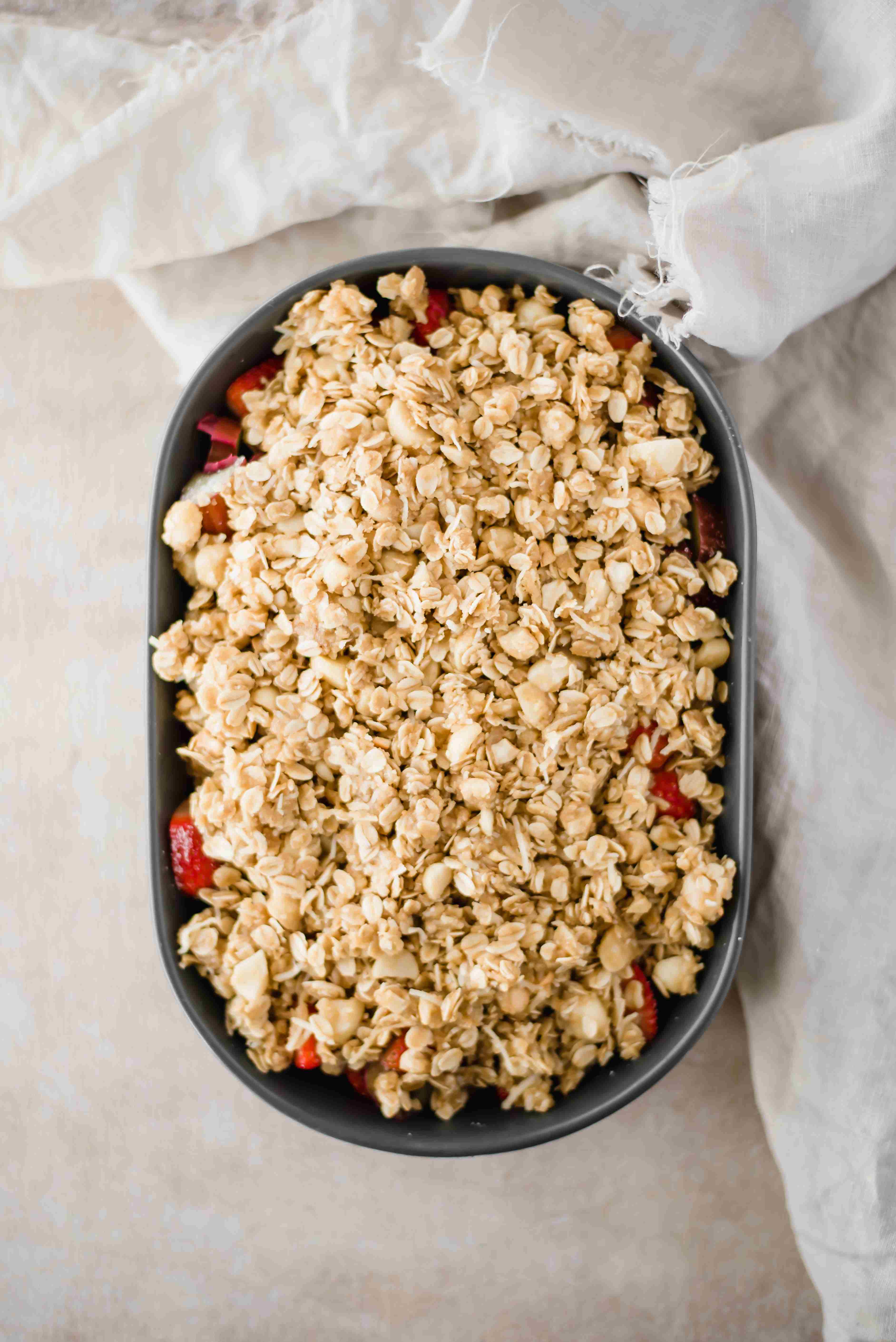 Now for the crumble. I have experimented with so many crumble toppings over my time, but this one is by far my favourite! While Rolled Oats
are classic base, I like to top the crumble up with a mix of nuts and Shredded Coconut
. 
I love to use Macadamia Nuts
as they have a beautiful mild nutty flavour that pair well with strawberries.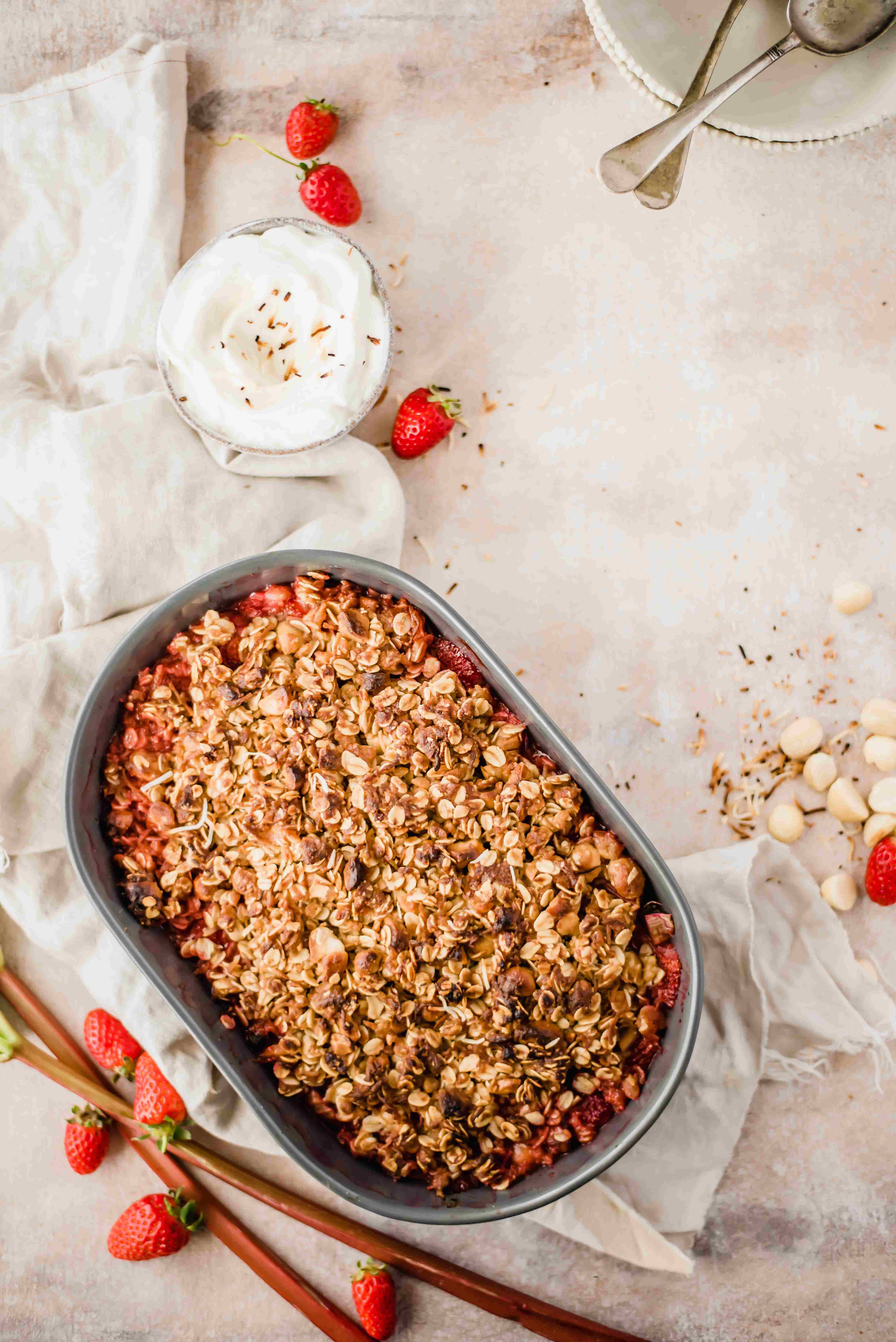 Serve this strawberry and rhubarb crumble with a creamy greek yoghurt or a little vanilla ice cream if you prefer!
I drastically reduced the added sugar in this recipe compared to a lot of recipes out there. If your strawberries are sweet enough, you don't need even need to add sugar to the fruit. 
That is why I actually LOVE having this for breakfast in winter! It usually results in having made it for dessert and I end up heating up left overs in the morning topped with a big dollop of greek yoghurt. So it is just like oats, fruit and yoghurt!!
Strawberry and Rhubarb Crumble
My Families favourite when rhubarb is in season! What better way to highlight it other than simply paired with tart strawberries and a crunchy nutty crumble topping!
Ingredients
200

g

Strawberry

hulled and halved

1

bunch rhubarb

leaves removed and cut into 1inch pieces

2

tbsp

caster sugar*
Crumble
¾

cup

flour

1

cup

oats

¾

cup

nuts

roughly chopped – I used macadamias and cashews

½

cup

shredded coconut

¼

cup

brown sugar

125

g

butter

melted
Instructions
Preheat the oven to 160C.

Combine strawberries and rhubarb in a baking dish and then sprinkle with sugar.

To make the crumble combine flour, oats, nuts, coconut and brown sugar in a bowl, then add in melted butter to form a moist crumb. Spread the crumb over the fruit and then bake in the oven for 30/40mins until fruit starts to bubble and crumble is golden brown**.
Notes
* it is a good idea to taste your strawberries before adding the sugar, as you may need more or less depending on how sweet they are!
** If fruit doesn't look cooked, but crumb is starting to brown cover with aluminum foil for the last 10mins of cooking.
Serve with vanilla icecream or greek yoghurt!
If you like this recipe you with love some of my other family winter favourites
https://www.goodlittleeaters.com/wp-content/uploads/2019/06/RhubarbCrumble6.jpeg
3008
6016
Shelley
https://www.goodlittleeaters.com/wp-content/uploads/2022/01/Good-Little-Eaters-Web-Logo.png
Shelley
2019-06-04 23:37:55
2019-07-12 04:54:06
Strawberry and Rhubarb Crumble