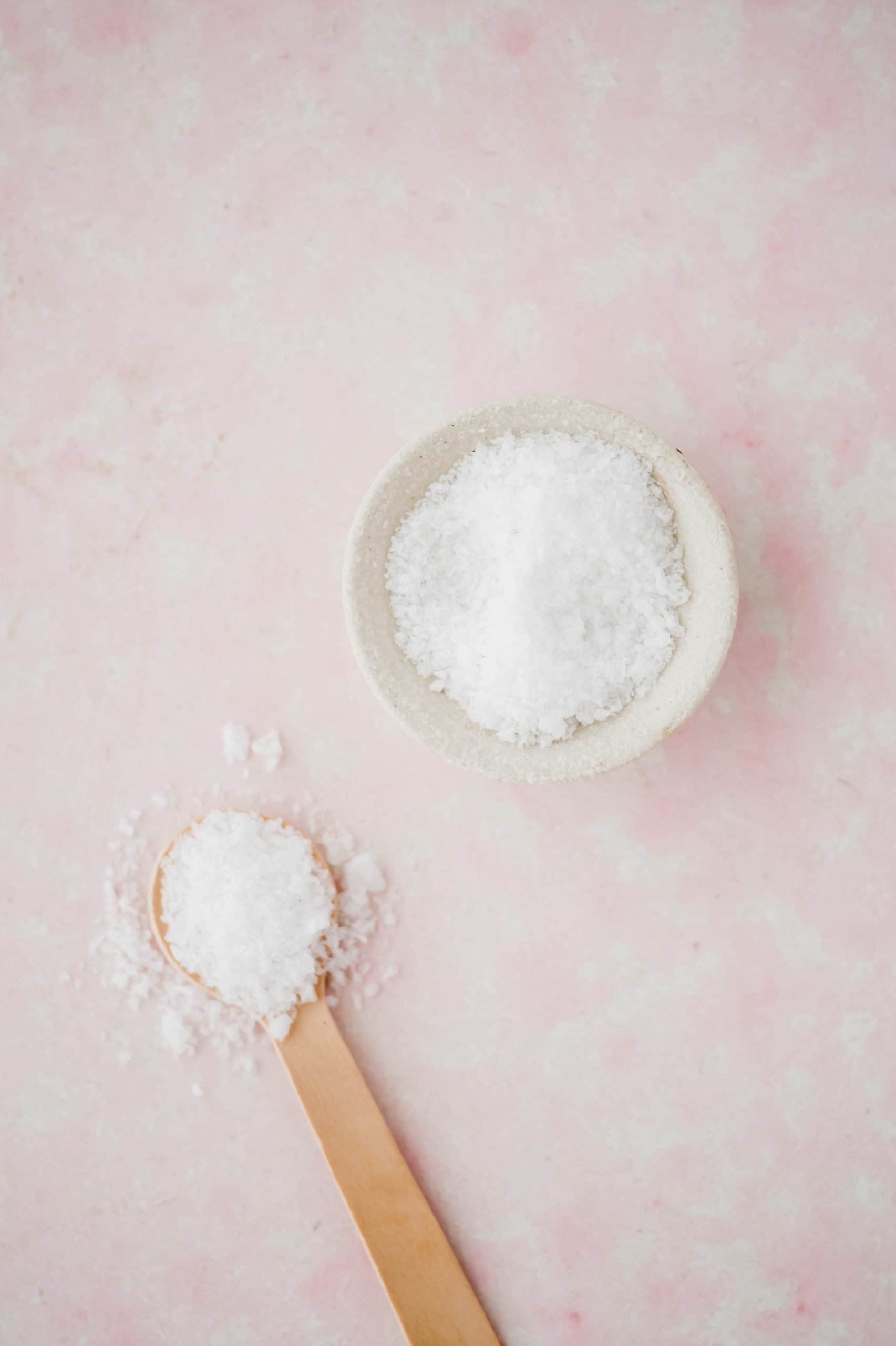 This week at Shelley's Good Eats we are bringing you the scoop on sodium! During this post, we endeavour to cover all the common questions and misconceptions surrounding this nutrient, as well as some practical tips for you and your family. 
What is Sodium?
Sodium is an essential mineral our bodies use to regulate and maintain specific cellular functions…because we class this mineral as essential, this means our bodies are unable to make this themselves…and so we have to consume it from our food. 
The major source of sodium we consume in our diets is sodium chloride or 'salt'. While both of these minerals are found naturally in many foods, they are also added to many of our favourite packaged foods as a preservative or as a way of adding flavour. 
*Nutrition tip When comparing or checking the nutrition labels of your favourite packaged foods, the 'Sodium Chloride' or 'salt' content is written as 'Sodium' (confusing, we know!) 
Should we all be worried about sodium?
Excessive sodium and chloride intake have been shown to have negative impacts on our health, and so it is recommended to limit the amount of added sodium chloride or 'salt', into our diets. 
Remember that our sodium intake also includes the amount of salt we add to our cooking and at the dinner table. And as you can imagine, the daily requirement of sodium for children is much lower than it is for a fully grown adult! Therefore, it is best to limit the amount of salt you add to your cooking so that your kids are not overdoing it on their requirements for the day!
However, since a lot of Australian's are getting a large majority of their sodium requirements from processed and packaged foods, it is important that we understand how to read and compare food labels, in order to choose the best options. 
How do I know what to look for on a food label?
Here at Shelley's good Eats, we know that it can be hard for parents to know what foods they should choose to feed their kids! We are so spoilt for options at the supermarket, that the idea of comparing food labels can feel a bit overwhelming. That's why we have decided to break down the label reading barriers and give you all a simple sodium guide, based on the information in our Australian Dietary Guidelines.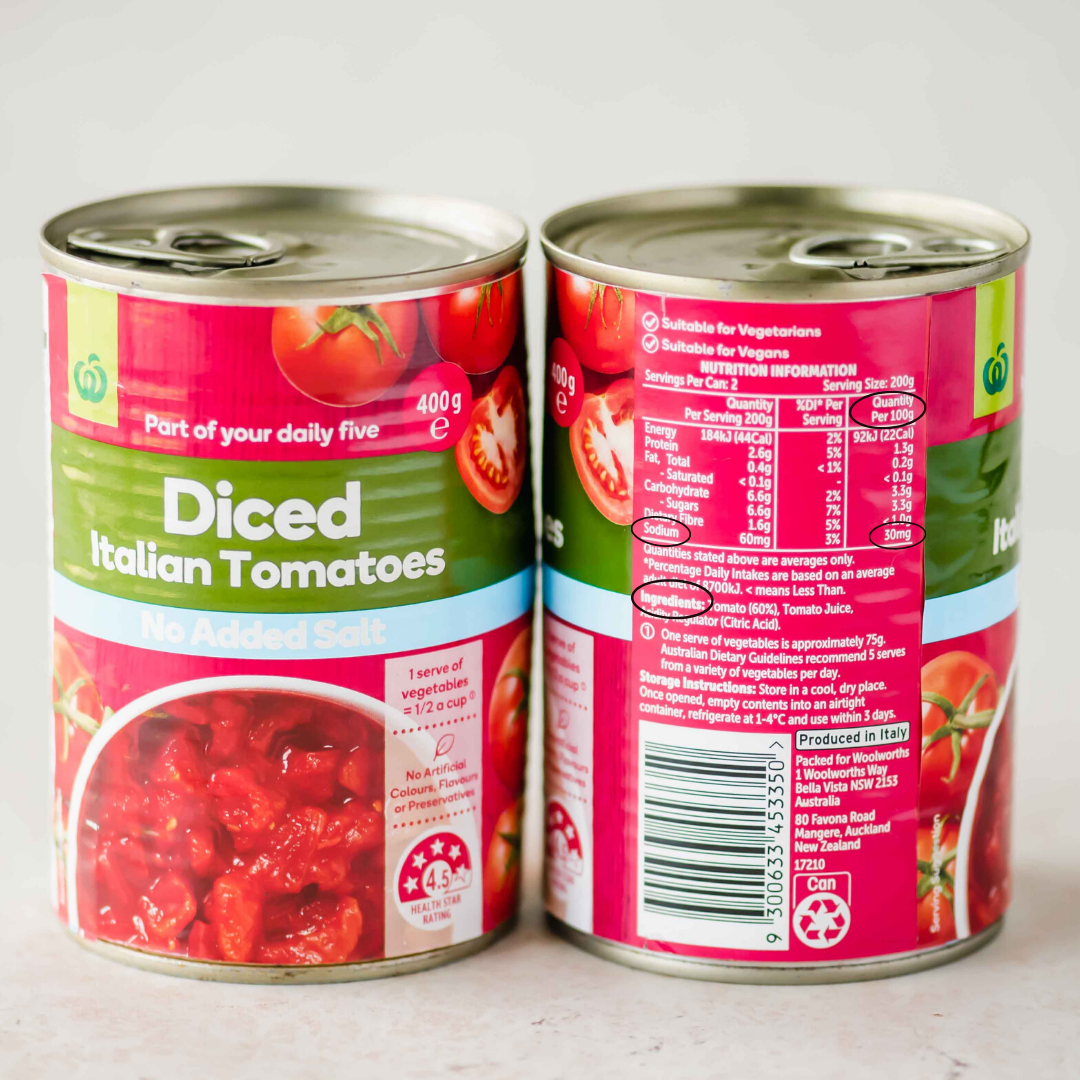 When comparing the sodium content between brands, always use the 'per 100g' column, as serving sizes can differ between products and brands

When comparing the sodium content of similar foods, products with less than 400mg of sodium per 100g are good, but products with less than 120 mg per 100g are best

When reading the ingredients label of a product, foods are listed on the label from the highest amounts to lowest amounts, so checking the first three ingredients for sodium can also be helpful when comparing between products. However while this can give us a good appreciation of the nutritional makeup of the food, this tool is best when used alongside the first two guidelines.

Finally, when checking the ingredients list, the name 'salt' can come in many forms. Therefore, being aware of the other names of high salt ingredients can be useful, these include; Baking powder, celery salt, garlic salt, meat/yeast extract, monosodium glutamate, (MSG), onion salt, rock salt, sea salt, sodium, sodium ascorbate, sodium bicarbonate, sodium nitrate/nitrite, stock cubes, vegetable salt.
We know that label reading can be tricky and knowing what to look out for when it comes to feeding your kids can feel like an impossible task sometimes! If you want to learn more about how to understand food labels, the Australian Dietary Guidelines have some good information we have linked above for you. 
Also If you liked today's post or found it useful, or if there are any other topics you would like to hear about from us in the future, please feel free to contact us or comment below. Other kids nutrition-related topics we have already covered are, the truth about feeding your kids fats, your kids and calcium, and sugars – are they all really all the same?
The Shelleys Good Eats Team
A bit about the Author

Hi my name is Karly. I am a 3rd year Nutrition student, studying on the beautiful Sunshine Coast. I work as an assistant at Shelley's Good Eats, in-between my studies. As well as having a passion for all things nutrition, I also have a keen interest in sustainability. In the future, I would love to combine both of my passions and educate people in a dynamic and multifaceted way.  
https://www.goodlittleeaters.com/wp-content/uploads/2020/03/stockphotos-1-scaled.jpg
2560
1705
Shelley
https://www.goodlittleeaters.com/wp-content/uploads/2022/01/Good-Little-Eaters-Web-Logo.png
Shelley
2020-03-23 16:49:49
2022-01-24 10:12:14
The scoop on sodium