As a parent, one of the most exciting and memorable milestones is introducing solid foods to your little one. However, beyond the joy of watching your baby explore new tastes and textures, there is a critical aspect that requires attention: the role of iron in their diet. It plays a pivotal role in your baby's growth, development, and overall health. In this comprehensive guide, we'll explore why iron is so crucial when starting solids, the importance of introducing iron-rich foods from 6 months old, and various foods to include in your baby's diet during this stage.
Why Introduce Iron-Rich Foods from 6 Months Old?
The World Health Organization (WHO) and other leading health authorities recommend exclusive breastfeeding or formula for the first six months of life. During this time, breast milk and formula provides all the necessary nutrients, that your baby needs for healthy growth and development. However, they contain very low levels of iron, and instead your baby gets its iron from stores it built up while in the womb.  At around six months of age, your baby's  stores begin to diminish, and they require additional sources of iron to meet their growing needs.
Introducing iron-rich foods at six months is critical to preventing a deficiency and promoting optimal development during this critical stage of growth. Delaying the introduction of iron-rich foods can put your baby at risk of developing iron deficiency anaemia, which may have long-lasting consequences on their health and well-being.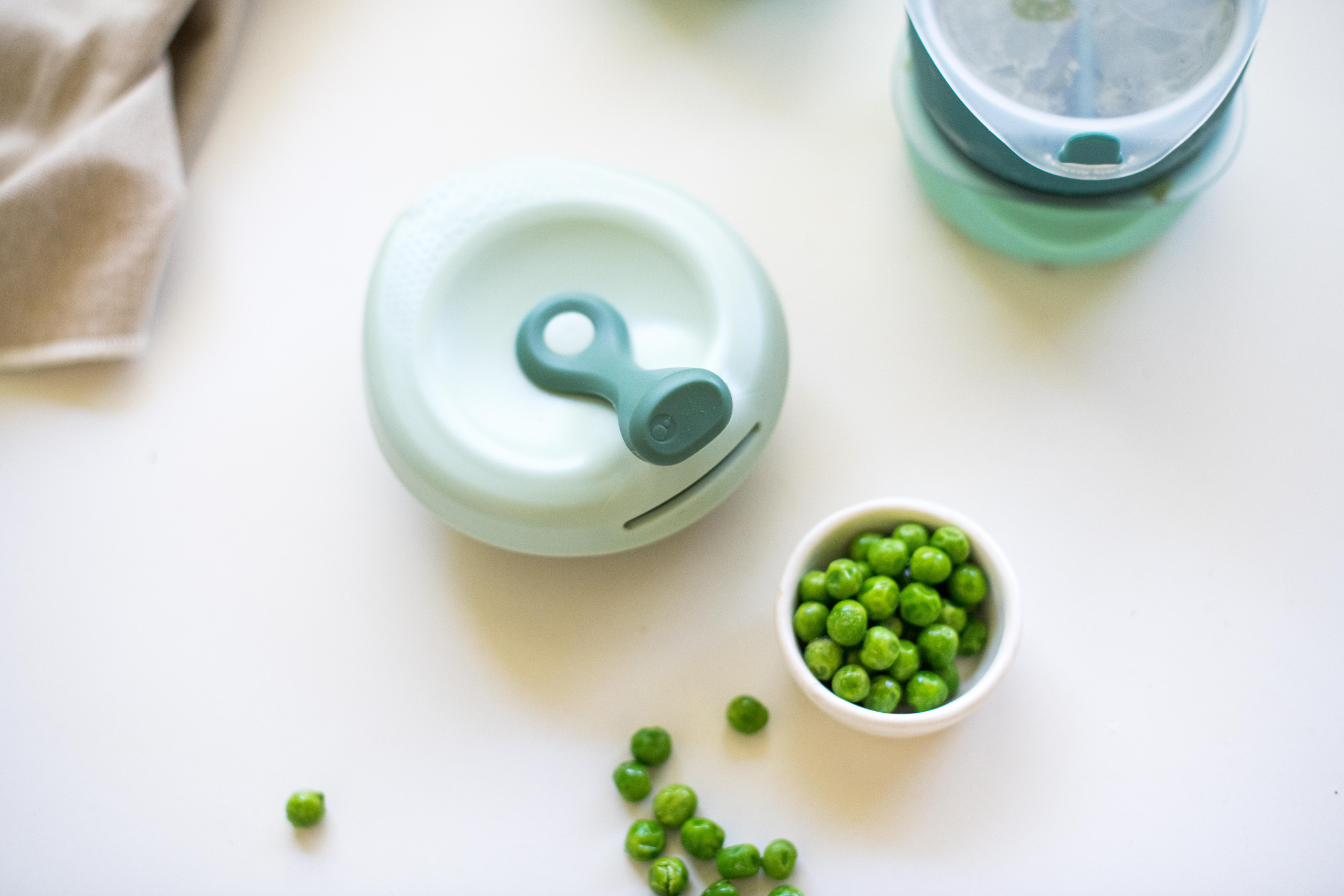 The Importance of Iron When Starting Solids
It is an essential mineral that supports numerous physiological functions in the body, particularly during infancy and early childhood. As your baby transitions from a milk-only diet to solid foods, ensuring an adequate intake of iron becomes paramount for the following reasons:
Supporting Brain Development: Iron is a vital component in the production of neurotransmitters, which are crucial for cognitive functions like learning, memory, and attention. Adequate iron intake during the introduction of solids can positively impact your baby's brain development and future learning abilities.
Preventing Iron Deficiency Anaemia: Iron deficiency anaemia is a common concern among young children, as their stores from birth begin to deplete around six months of age. Introducing iron-rich foods from the start of solids is crucial for preventing iron deficiency anaemia. This condition can lead to fatigue, weakness, impaired immune function, and delayed growth and development.
Enhancing Energy Levels: Iron is a key component of haemoglobin, the protein responsible in red blood cells for carrying oxygen throughout the body. Sufficient iron intake ensures optimal oxygen delivery to cells, which helps generate energy. When your baby receives enough iron from their solid foods, they will have the energy needed for healthy growth, exploration, and daily activities.
Strengthening the Immune System: Iron plays a crucial role in supporting a robust immune system. It aids in the production of immune cells and antibodies, helping your baby's body fight off infections and stay healthy. A well-functioning immune system is particularly important as your child explores new foods and environments during the transition to solids.
Ensuring Overall Growth and Development Iron is essential for the formation of red blood cells, which transport oxygen and nutrients to different parts of the body. It also supports muscle development, aids in the synthesis of DNA, and contributes to the production of enzymes necessary for various bodily functions.
How to Ensure They Get Enough
To ensure your baby receives an adequate intake of iron when starting solids, consider the following tips:
Introduce Iron-Rich Foods: Offer a variety of iron-rich foods at every mealtime. In the beginning your baby won't eat much food that you offer so it is good to prioritise serving iron rich foods.
Combine Iron with Vitamin C: Pairing iron-rich foods with those high in vitamin C can enhance absorption. Include fruits like citrus, strawberries, or kiwi, or vegetables like bell peppers or tomatoes alongside iron-rich meals.
Gradually Increase Iron-Rich Foods: Start by offering small amounts of iron-rich foods and gradually increase the quantity and variety as your baby progresses in their solid food journey. This approach allows their taste buds to adjust and minimizes the risk of digestive discomfort.
Not All Iron Sources are Made Equal
When considering iron-rich foods for your baby's diet, it's essential to understand the difference between heme and non-heme iron. These two types of iron are found in different sources and have varying levels of bioavailability, which affects how easily they are absorbed by the body.
Heme Iron:
Heme iron is primarily found in animal-based foods, such as meats (beef, lamb, chicken, turkey) and fish. It is referred to as "heme" iron because it is bound to a molecule called heme, which gives it its characteristic red color. This type of iron is highly bioavailable, meaning it is easily absorbed by the body and utilized efficiently.
The bioavailability of heme iron is one of its main advantages, especially for infants and young children. It is readily absorbed by the intestines, even in the presence of other nutrients that may inhibit non-heme iron absorption, such as calcium and phytates (found in certain plant-based foods).
Non-Heme Iron:
On the other hand, non-heme iron is found in both animal-based and plant-based foods. However, it is predominantly found in plant-based sources such as legumes (beans, lentils, chickpeas), tofu, and leafy green vegetables (spinach, kale, broccoli). Unlike heme iron, non-heme iron is not bound to heme molecules, which contributes to its lower bioavailability compared to heme iron.
The absorption of non-heme iron is influenced by various factors, including the presence of other dietary components in the same meal. For instance, certain compounds found in plant-based foods, like phytates and oxalates, can hinder non-heme iron absorption. However, there are ways to enhance the absorption of non-heme iron, such as combining it with vitamin C-rich foods (e.g., citrus fruits, bell peppers) that can improve its uptake.
Balancing Heme and Non-Heme Iron for Optimal Nutrition
Both heme and non-heme iron play crucial roles in your baby's overall nutrition. While heme iron is more easily absorbed by the body, non-heme iron from plant-based sources offers additional health benefits, such as fibre and essential vitamins. As your baby's diet expands to include a variety of foods, it's beneficial to include both heme and non-heme iron sources to ensure a balanced intake of this essential mineral.
By providing a diverse diet that includes iron-rich foods from both animal and plant sources, you can effectively support your baby's iron needs during this critical stage of growth and development.
Iron-Rich Foods to Include When Starting Solids
When introducing solids to your baby, incorporating a variety of iron-rich foods is key to providing a well-rounded and nutrient-dense diet. Here are some iron-rich foods to include:
Pureed Meats: Meats such as beef, lamb, chicken, and turkey are excellent sources of heme iron, the most readily absorbed form of iron. Pureeing meats and offering them in small, soft, and easy-to-swallow portions is a great way to introduce this valuable nutrient.
Iron-Fortified Cereals and grains: Iron-fortified cereals, grains and bread are great to include in your little ones diet as they are specially formulated to provide a significant source of iron. Most sandwich loaves at your local Coles and Woolworths will be fortified with iron, as well as oats, and rice cereal.
Legumes: Beans, lentils, chickpeas, and peas are rich sources of non-heme iron. Pureed or mashed legumes can be introduced as your baby's palate develops and becomes more receptive to different textures.
Tofu: Tofu, made from soybeans, is an excellent source of plant-based iron. Soft, silken tofu can be introduced to your baby's diet and is easy for them to consume.
Leafy Green Vegetables: Spinach, kale, broccoli, and other leafy green vegetables contain non-heme iron. These can be steamed, pureed, or finely chopped to be incorporated into your baby's meals.
Remember, introducing iron-rich foods through homemade purees is a fantastic way to create delicious and nutrient-dense meals for your little one, setting the stage for a lifetime of healthy eating habits and optimal development.
A great first puree for your little ones is this iron rich 'hulk puree' Not only does it contain lots of iron rich vegetables in the form of peas, spinach and broccoli it has the added iron and protein from the lentils. As well as extra vitamin C from the lemon juice to make the iron more bio available to your little ones to improve absorption.
 Iron-Rich 'HULK' Puree
Prep Time: 10min
Cook Time: 10min.
Serves: 6 (1/3 cup serving size)
1 Tbsp extra virgin olive oil
200g broccoli florets
1 cup green peas, frozen
100g baby spinach
400g tin brown lentils, rinsed and drained.
½ tsp cumin, ground
2Tbsp lemon juice
Method:
Heat the oil in a pan over medium low heat and then add in the broccoli florets and peas. Sauté for a few minutes until broccoli is bright green. Then add in the spinach and ½ cup water. Place a lid over the pan and let steam for 2mins. Remove from heat and allow mixture to cool for 5mins.
Finally add the vegetables into a food processor or high-speed blender with the lentils, cumin, and lemon juice. Process until smooth. You can add more water to thin it out if needed.
Portion it out into Bbox Freeze and fill containers and freeze until ready to use!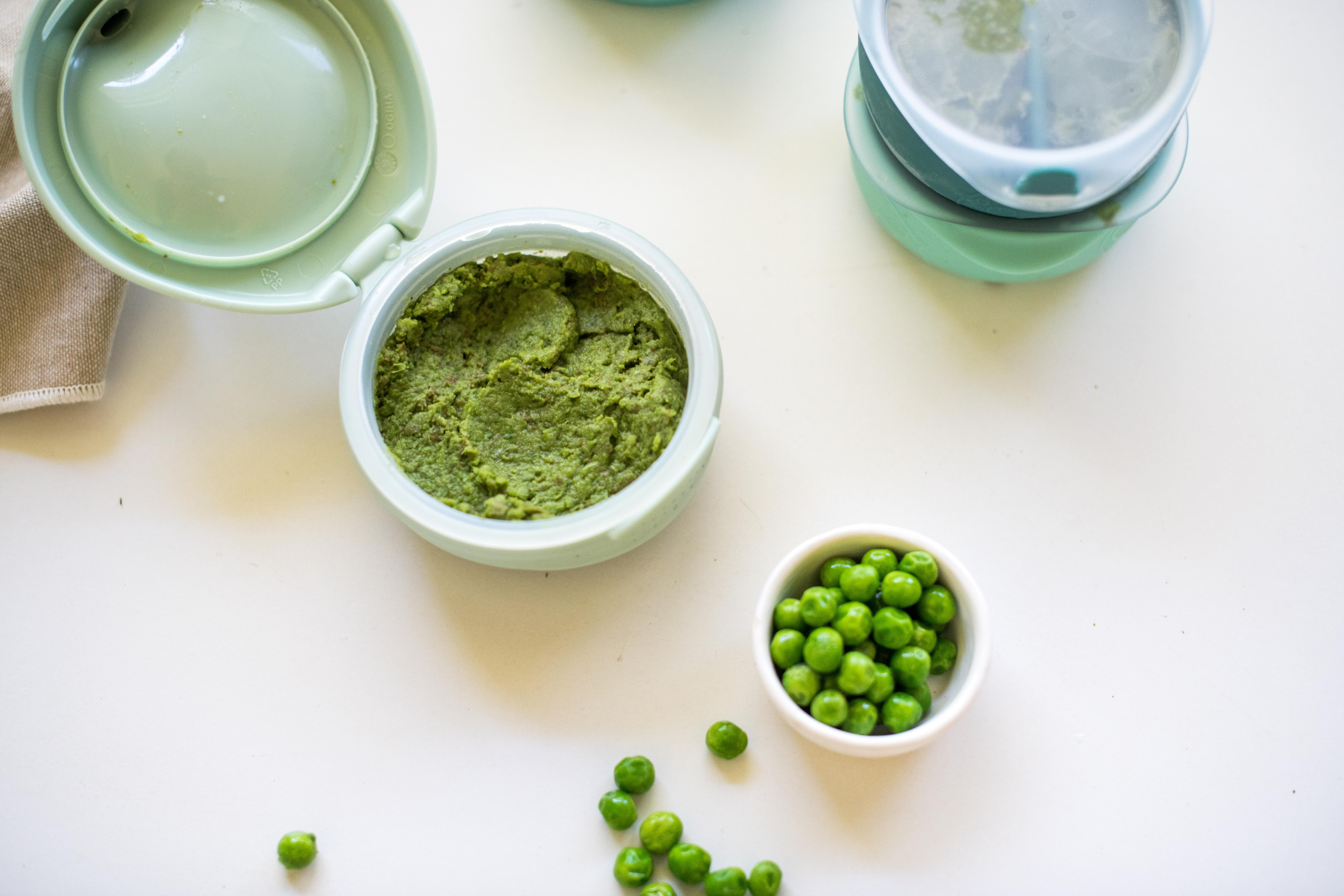 Storing Your Purees
When you make purees for your baby, the easiest thing to do is make them in large batches and then freeze them in individual portions so you always have an iron rich food you can add to your baby's meal. The b.box fill + freeze containers are perfect to store individual portions you can simply take out, microwave and pop into a b.box fill + feed to make feeding your baby really easy (and reduce a lot of the mess!).
As you embark on the exciting journey of introducing solids to your baby, keep in mind the critical role of iron in their growth, development, and overall health. Introducing iron-rich foods from 6 months old is essential to prevent a deficiency and support your baby's cognitive and physical development. By incorporating a variety of iron-rich foods into their diet, you're laying the foundation for a lifetime of healthy eating habits and ensuring they receive the essential nutrients they need to thrive.
Remember, every baby is unique, and their tastes and preferences may vary. Be patient, offer a variety of iron-rich foods, and enjoy this special time of exploration and discovery with your little one. If you have any concerns about your baby's iron intake or need further guidance on introducing solids, don't hesitate to consult with a paediatrician or a children's nutritionist.
https://www.goodlittleeaters.com/wp-content/uploads/2023/09/ironrichpuree-4-scaled.jpg
1707
2560
Shelley
https://www.goodlittleeaters.com/wp-content/uploads/2022/01/Good-Little-Eaters-Web-Logo.png
Shelley
2023-09-21 16:06:28
2023-09-21 16:06:28
The Essential Role of Iron When Introducing Solids to Your Baby